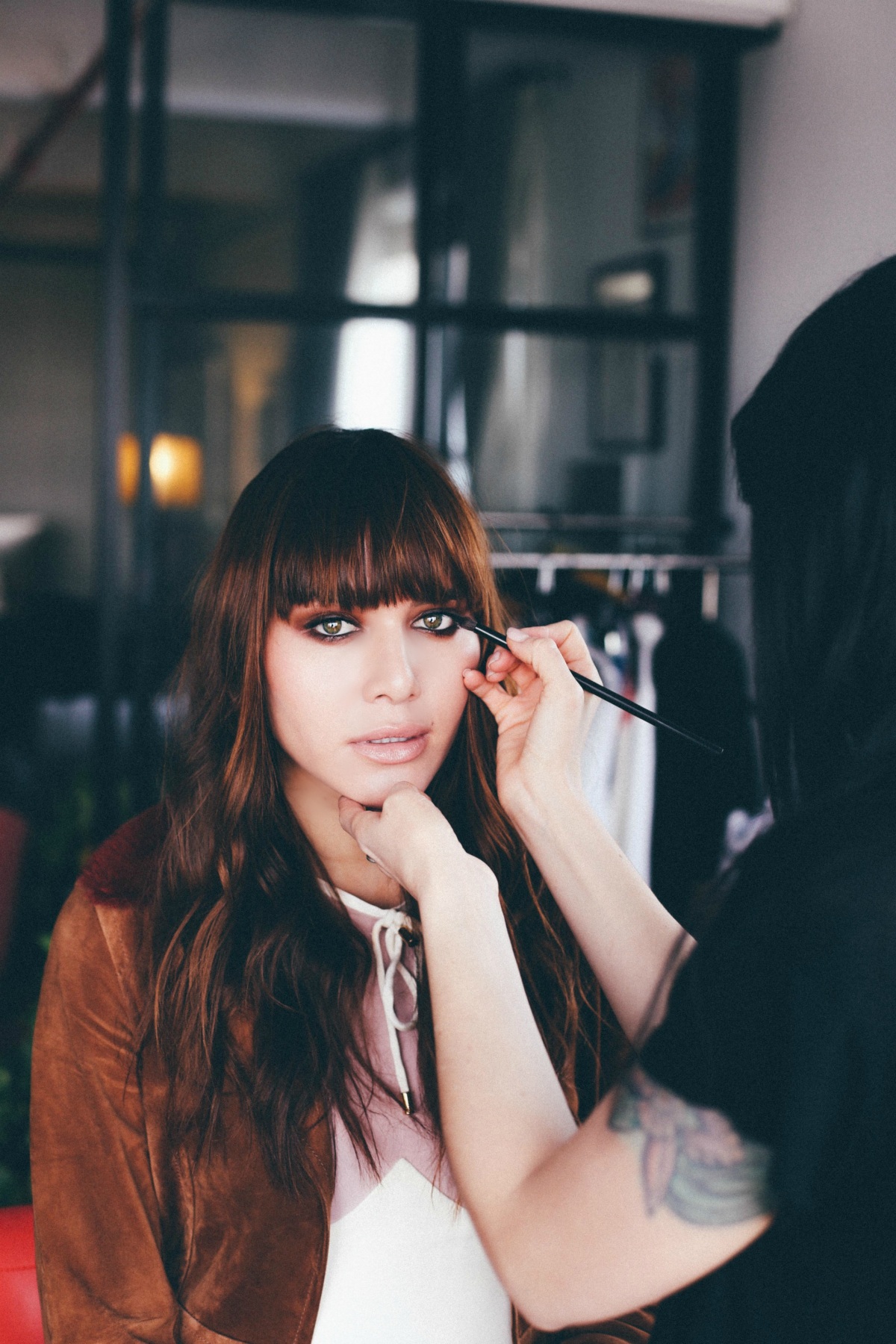 It's backstage at the shows, and when I'm getting my makeup done by the professionals that I get most inspired. Inspired to dig my own hands in the beauty department and experiment with some of the absolute best products out there. Shimmer. Purples. Pinks. Redish black eyeliners, that I didn't even know existed. All things that shouldn't be so scary to play with. For my first day of shows, I wanted something super rock n' roll. I asked my makeup artist, "hmm, what would look incredible with a full sequined blue pant suit?" A sexy, dark eye of course! Done. Of course I arrived backstage at Alexander Wang just moments before show time, but easily revamped my look in the chair within 5 minutes. A super easy shimmered shadow and velvet matte bold lip. Sure it sounds simple enough, but swoon-worthy makeup starts with amazing, quality products. Here, I worked with NARS in mastering stunning, statement looks during fashion week.
Look #1: Easiest way to bring out the colors in your eyes? Black kohl liner. NARS to be specific. Smudged to perfection. It's fantastic for us green eyed girls. Keep the rest clean and fresh, with a swipe of pale pink lip gloss. Gloss always does the trick when completing a sexy eye look. Oh, and don't forget to go crazy with the mascara. You're allowed to here!
*Makeup by Jenny Atwood Smith at NARS*
Look #2: A pale shadow with a really bold lip. I am in love with NARS's velvet lip matte lip pencils. This one is in "Pussy Control." It's a gorgeous deep plum. It's seriously all you need with a bare face. But if you do want a little something-something on your lids, do a little liner on your top lids with a swipe of pale pink eyeshadow. Done and done.

*Makeup by Niko Lopez at NARS*