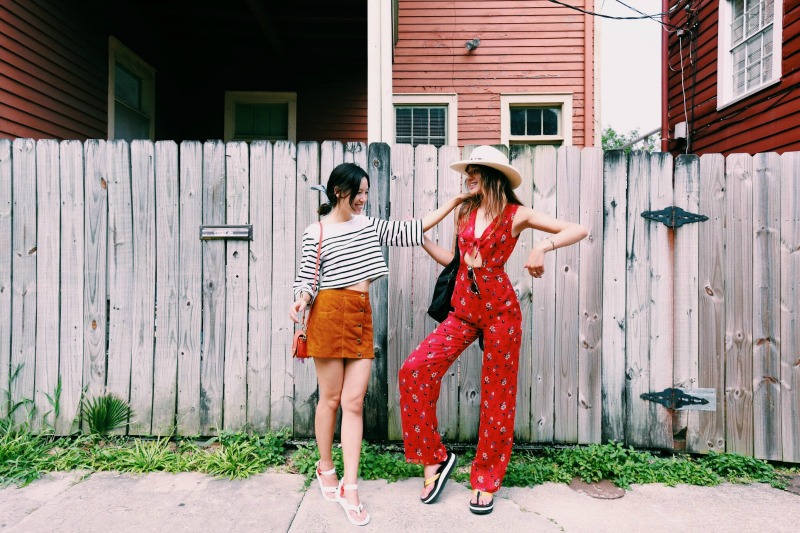 NEW ORLEANS, LA: 
It's been a while since I've taken a proper road trip. And a trip through the South has forever been on my bucket list! So me and my 3 babes: Dylana, Stephanie, and Raych had one destination on our mind. And that is: BONNAROO. We threw our Teva sandals in our travel bags and planned to hit 3 major must-see cities: New Orleans, LA, Birmingham, AL, and Nashville, TN! All before the craziness of Bonnaroo! Once we got off the plane, we couldn't keep ourselves calm. Anticipating our adventures on the road, who we were going to meet, what we were going to do. And most importantly, what we were going to wear! The heat in the South was like a wave that shocked our bodies. But legs covered in mosquito bites wouldn't stop us! We got in our car, checked into the Omni Hotel in the French Quarter, threw on our jumpsuits and Teva Flatform sandals (my new favorite style) and hit in the streets in search of coffee and beignets. New Orleans is charming and beautiful. The candy colored rows of shops in the French Quarter were picture perfect. But my friend, a local from the Garden District brought us to ByWater. It's a little mini-Brooklyn just outside the French Quarter. We ended our one night in New Orleans with unlimited wine, cheese, Po Boys, and jazz. Lots of jazz. The music in New Orleans is insane, and it never stops. Not in the streets. Nor in the bars. The energy is inspiring. There's true soul in New Orleans. One of the best places to go dancing. The only rough thing about being on the road is falling in love with a city, and having to leave merely 24 hours later. After one more morning of beignets, the Southern warm rain was falling, so we packed our bags and slipped on a fresh pair of Teva sandals to our next destination: Birmingham, Alabama.
// TEVA flatforms //
BIRMINGHAM, AL: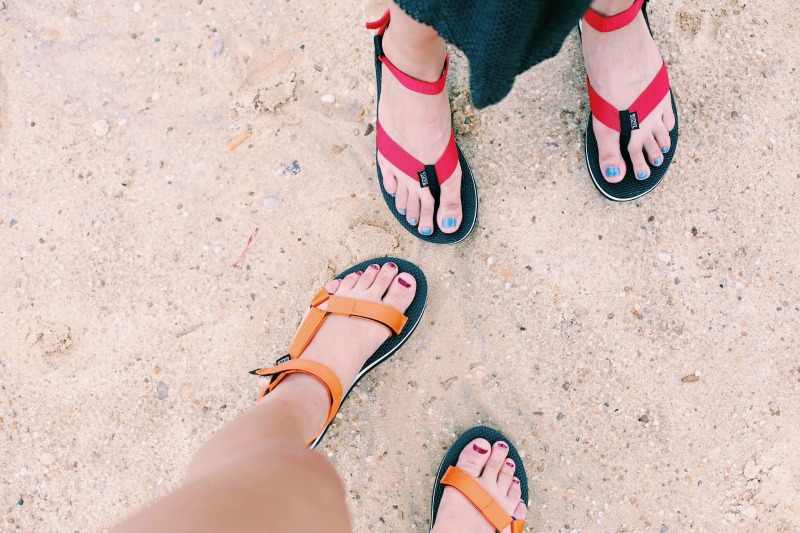 I was blown away by Birmingham's luscious green trees and beautiful open roads. We spent the night curled in a cozy bar as the rain came to a stop, sleepy from our first long day on the road. There's one thing I love about the South and that is the beautiful lakes. We spent the next morning under the hot sun at Oak Mountain State Park. All I felt like wearing was my one piece swimsuit, a great pair of Teva sandals, and giant sunhat. Dipping ourselves into the warm lake felt refreshing and exhilarating. I could have sat there all day. But we had places to go, and a tight timeframe! Bonnaroo is waiting! Singing "Sweet Home Alabama" we gathered our things before hitting up Saw's BBQ for some classic chicken sandwiches and mac n' cheese. Southern food really is something else. Let's just say our bellies were pleasantly fully our entire trip! When traveling, I always indulge.
Bonnaroo was only a few more days away. And I was savoring every single moment in our hotel beds, knowing that tent life was going to be INSANE at the festival. We packed up, and hit the road late that evening to NASHVILLE. I've always dreamed of Nasvhille. The heavy accents, the Country music. The booze. Still in our bathing suits and soaked Teva sandals from the lake, we hit the road. We arrived in Nashville just before dark, and hit Broadway. The main street full of bars, neon lights, and people. Lots of people. Who knew we'd be just passing through Nashville during the Country Music Awards? Broadway street was pure insanity. We ended our night sipping IPA's at Wanna B's karaoke lounge. Raych and I hit the stage to Nicky Minaj's "Super Bass," Extremely breaking up the endless country tunes sung one after another. Walking back to our hotel with nothing but smiles and dreaming of our pillows. One. More. Day. On. The Road.
// TEVA originals sandals //
NASHVILLE, TN to BONNAROO: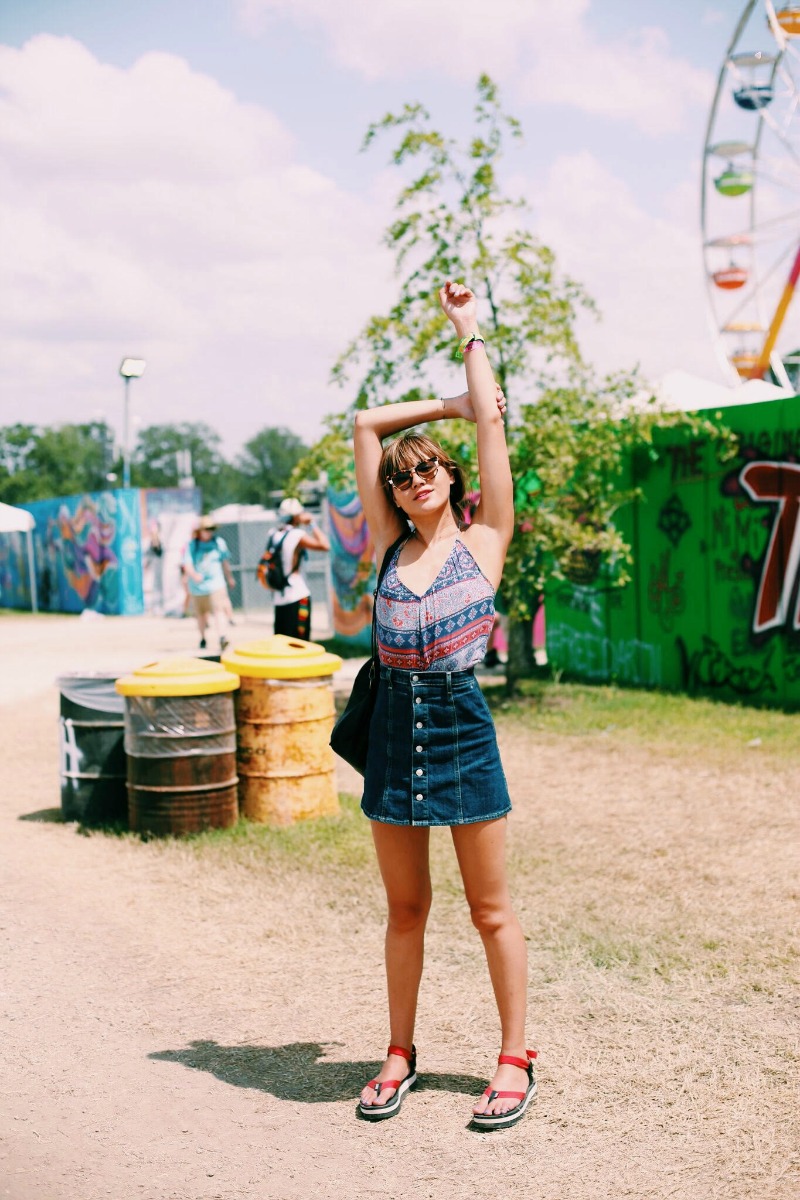 BONNAROOOOOOOOOOO! I can still hear the crowds from the weekend screaming "BonnaROOOOO!" over and over on the campgrounds. At this point, I was already onto my 5th pair of Teva sandals. Each worn to the bone, and with love of course from all of our days on the road. 3 cities down, now 4 full days of Bonnarooo to go! We pulled up and unloaded next to our tent. VIP camping definitely felt like a luxury with showers, bathrooms, and amazing charging stations. BUT, a small tent with 4 fashion ladies looked more like an explosion than VIP. Pink Teva sandals over here. Flatform sandals over there. Where's my pair? But we had no time to waste. We threw on whatever we could get our hands on first, and made our way to the festival. Of every festival I've been to, Bonnaroo felt the most authentic. Hippies all over the campground, and never in my entire life have I seen so many Teva sandals. It felt like Bonnaroo was Teva City! Especially when you entered The Grind: the Teva coffee shop over at Pod 7 in the middle of the campground. Where you could listen to surprise gigs and DIY your sandals. For me, it was a lot like a resting spot. This wooden building the only place to shade yourself from the burning Tennessee sun. But everything about Bonnaroo felt real. The people. The campground. Everyone is there for the music. No matter how dirty you may get. No matter how cold your tent gets at night, you still want to get up and dance to Billy Joel, and run around with your top off (!) Every day, my skin got more and more tan, but my energy was still up. I survived legit camping (even if it was VIP) and I had the time of my life. Exploring new places, hearing new music, and meeting new people. It was the absolute dream road trip. I can't wait to take my Teva sandals on another wild adventure again soon.