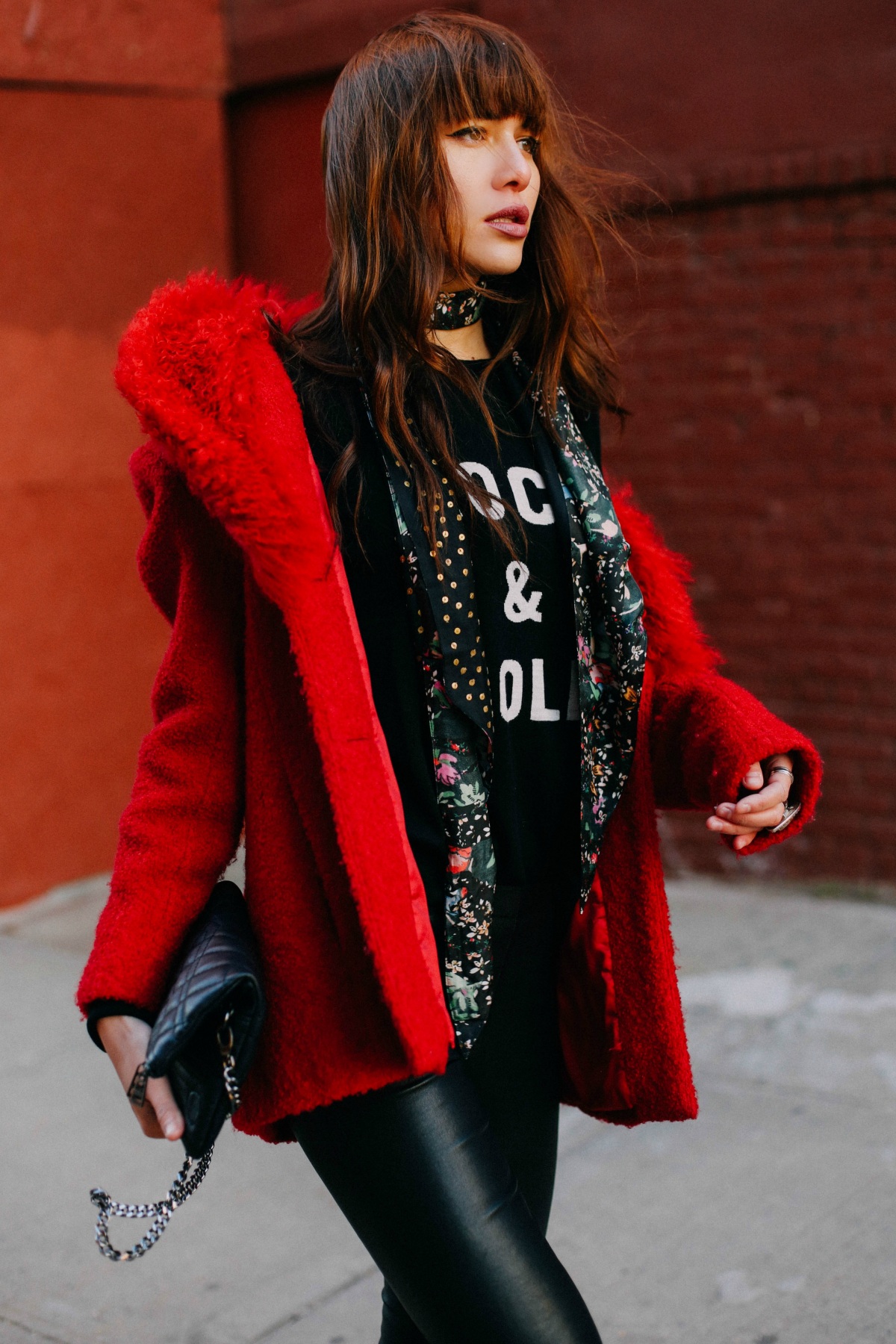 It's only rock n' roll, but I like it. A lot. Especially when it comes from Zadig et Voltaire…the epitome of French girl cool. I love visiting the team whenever I'm in Paris. Everyone's got their perfect wool blazers. Stacked on rings. A messy head of hair. No makeup. But that's what I love about Zadig et Voltaire. They've created clothing that accentuate you…whatever rock n' roll goddess mood you're in that day. And of course, in your most effortless, laid-back, beautiful way. And guess what? It's almost time for their big Black Friday SALE. I say go for these staple leather pants this Black Friday. I snagged this black ensemble because head-to-toe black is pure rock n' roll now isn't it? Classic and totally essential this winter. I gave it a pop of red with my vintage coat. To me, leather pants with a buckled, studded-to-perfection western boot are a match made in heaven. It is what I'll be wearing to the local dive bar here in Brooklyn, and back home on the West Coast, strolling down Abbot Kinney on New Year's. Zadig et Voltaire nails this effortless look perfectly. It's that je ne sais quoi. I quickly swiped on a little winged eyeliner, and gave a little shake in my hair. What would Stevie Nicks do?! When I'm gearing up for a show to perform at, or seriously having an OFF DUTY moment, I go for head-to-toe black. There's a part of me that's got a bit of Mick Jagger. But it's truly the French girls that effortless rock n' roll simplicity super well.
Shop the BLACK FRIDAY sale now on Zadig et Voltaire.
Shop with my discount code: NATALIELOVESZADIG. for 20% off SALE and full price items. Good from 11/25-11/28!
// Zadig et Voltaire cashmere sweater, shiny scarf, rock matte clutch, leather pants, and boots //
* use code: NATALIELOVESZADIG for 20% off SALE and full price items from 11/25 – 11/28*