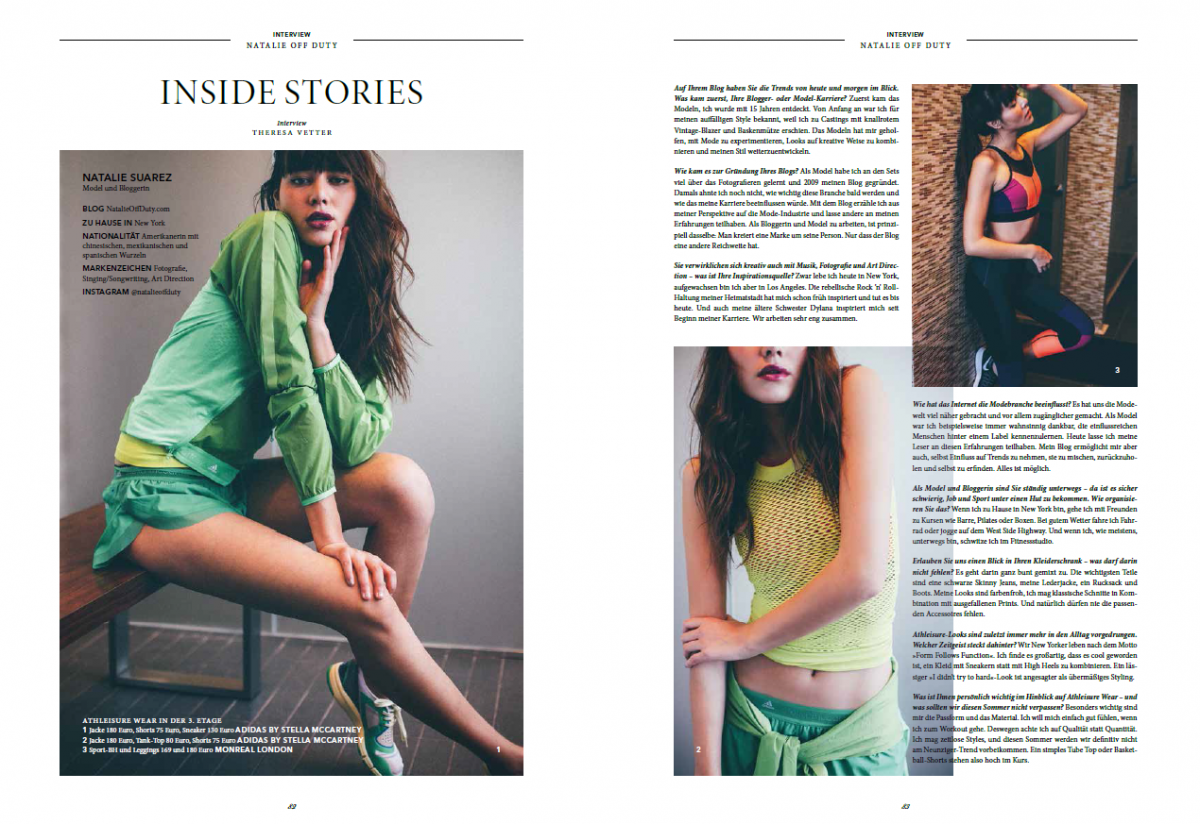 I am so excited to be inside the KaDeWe Berlin Magazine's S/S '16 issue, sharing a bit of my fitness diaries, and sporting some of Spring's best and chicest athleisure wear. When I am off to gym or a Pilates class, I love wearing a lot of colors. Black yoga pants? No way. We're talking bright pinks, lemon yellows, lime greens! Our editorial was very much inspired by the vibrant and wild colors of Cuba, a place I am dying to visit and photograph! A place where you may actually trade in your gym clothes for a bright yellow dress to samba in the middle of the streets! For now, my New York City barre class will have to do!
Read the interview translated here:
With your blog you seem to keep an eye on all kinds of nowaday's styles. What came first, modeling or blogging, and in what way does one job influence the other?
Modeling came first. I was thrown into the modeling world when I signed with an agency when I was 15. I've been working ever since. But I had so much brewing inside of me. I was so much in love with style, and putting together an outfit. I was that girl who showed up to a casting in a bright vintage red blazer with patches on it, and a beret. I always had eclectic style. Being on set as a model really helped me find my true style, and become really experimental when putting together a look. Then, I learned a lot about photography and design through working with some of the best in the business. When I started "Natalie Off Duty" in 2009 when I was 18, I knew exactly what I wanted to do…which was tell my story creatively through a digital platform. Soon, brands I worked with followed me, and I gained a real loyal following with women just like myself. It eventually lead me to amazing design collaborations, traveling to fashion weeks, and shooting more editorial looks for the blog. Every step of the way with my blog was a learning experience…helping me better myself and my art. "Natalie Off Duty" began as a place to make the fashion world not seem so scary, from an insider's perspective. I never knew that blogging would soon become a major career for me. Modeling really influenced "Natalie Off Duty" which was really inspired by the "model off duty" lifestyle I have really only known and lived. Constantly traveling, constantly being on the go. Growing up, I've really only knew how to work for myself, be my own brand. Being a model…and being a blogger/editor is the exact same thing, you are your own brand and person. But with the blog, I gained a voice in the industry in a whole new way.
You're active in different kinds of creative work such as writing, singing, photography and art direction – where do you get your inspiration from?
I'm very much inspired by my older sister, Dylana of http://www.dylanasuarez.com. It's as if we were born the exact same way. We both write. We both sing. We both do photography and art direction. We have the same eye. Which is why we still to this day work on everything together, and I trust her opinion. She's very thoughtful and a true artist. I learned all of what I know from her. My mother and father also really appreciated art, travel, rock n' roll, and fashion. My dad introduced me to Bob Dylan, The Rolling Stones, and Led Zeppelin. That rock n' roll rebellious attitude is one of my biggest inspirations. I guess it had a lot to do with how I grew up. Los Angeles is just a place for all of those things. You get inspired by all of the artists and rockstars you see just walking down the street.  
From the blogger's point of view, in what way did the internet change fashion and the number of so-called trends?
The internet has made the fashion world so much more accessible, so much more real and relatable. I remember as a model, you are BEYOND lucky to meet with a brand face to face. I was lucky I was sent to castings, meeting with top designers. But now with blogging, it opens a whole new door to the world of fashion. You have more power and influence. Brand suddenly want to hear what you have to say, really value you as a consumer, writer, and influencer. With that, as a blogger, you see the trends up close and personal, at an instant. Just flipping through Instagram, or getting a press email. I feel like I've seen a lot of the trends. The ones that go, the ones that stick. The fun thing about a blogger is that you can bring back those trends, mix them up, and make them your own. Anythings possible.
 As a model and always on the run, what kind of sports do you do? Do you have a certain routine? When I'm home in NYC, my friends and I will take classes. Barre, pilates, bari, boxing. When the weather is nice, you'll find me on a Citibike, or running down the West Side Highway. But with tons of traveling, sometimes you just have to hit the gym and jump rope to sweat it out.
Allow us to catch a glimpse of your closet. Which pieces in there are essential to you? Black skinny jeans. Leather jacket. Backpack. Boots. My closet is super colorful. I like classic shapes, but wild prints and accessories.
Functional wear is about to become more and more everyday fashion. What kind of zeitgeist does this trend reflect? Living in NYC, function is first and foremost. We're walking all day, we're stuck on the crowded train, and dodging rain puddles. I love that it's become cooler to wear sneakers with your dress than heels. I feel the effortless "i didn't try too hard" look is a lot more chic than something over the top outrageous.
When it comes to functional wear what is important to you regarding the clothes? Fit and fabrics. I've been all about quality versus quantity, timeless pieces that will never go out of style.
Which sporty-styles we should not miss out this summer? The 90's flashback. I love a good tube top and pair of basketball shorts.
See the full issue and story in the KaDeWe Berlin "Cuba Libre" issue.
Shop it in the issue: Adidas by Stella McCartney green jacket and shorts, Monreal London pink/black bra and pant, Calvin Klein pink bra //