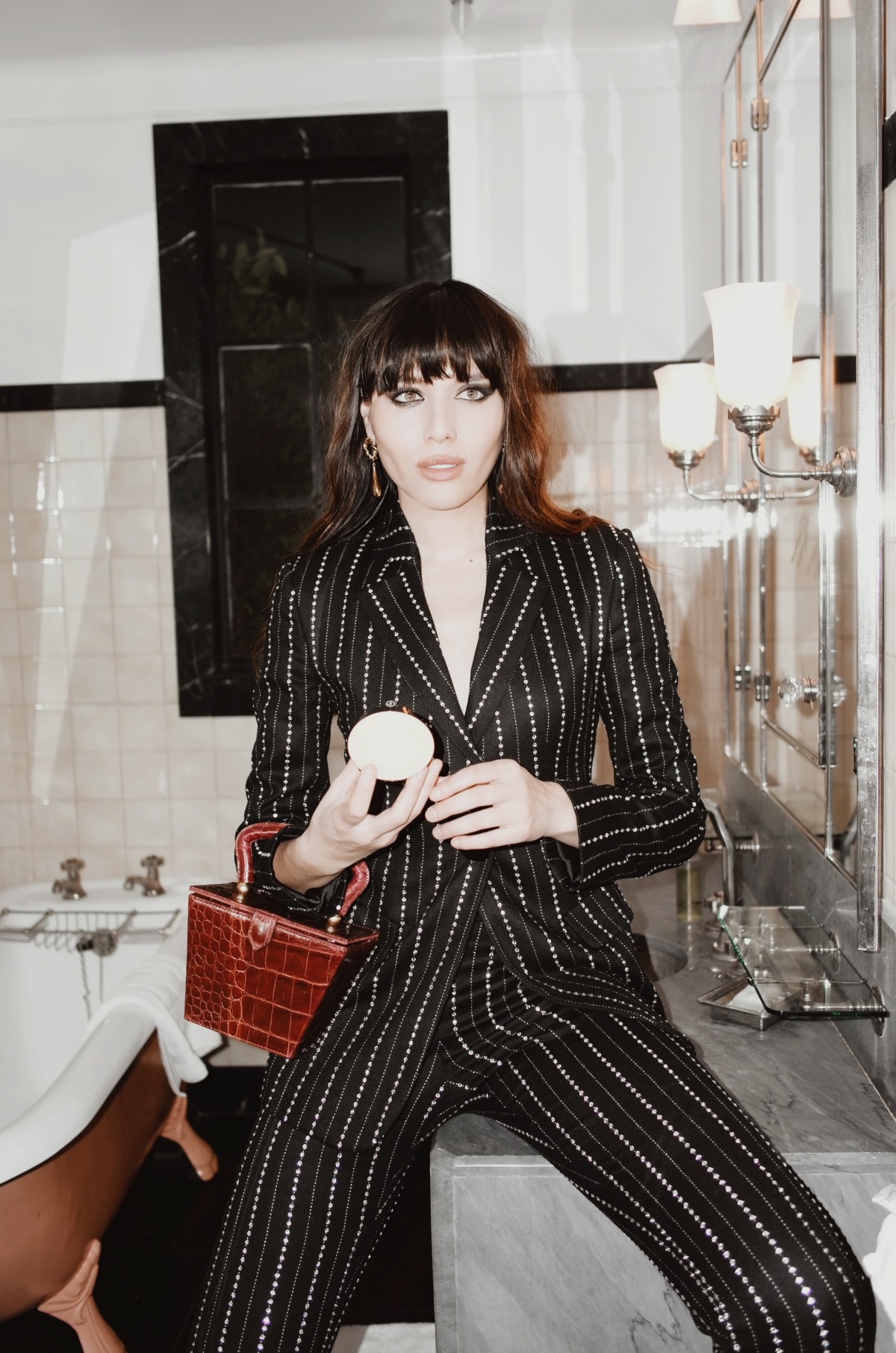 Suit: Armani. Mini dress: Armani. Shoes: Armani. Bag: Staud
Bodysuit + Flared pant: Retrofete. Earrings: Sandals: Stuart Weitzman.
It is only the very first week of 2019 and it has already been insane and filled with excitement! I went straight from vacation straight into Golden Globes weekend! Did everyone relax on their couches last night with a big bag of popcorn to watch the awards? I got to kick off the new year here at the Chateau Marmont for the W Magazine Golden Globes party with my lovely Armani Beauty team. What a star-studded place to celebrate Golden Globes weekend! It's not easy snapping back into work mode so quickly into the new year, but I will do anything for such an iconic night. Therefore, I slipped into this dazzling sequin Armani suit and stilettos for the red carpet. The Armani Beauty team came to my room to get me ready and I knew immediately after trying on my final look that I needed a very fierce, smokey eye. Heavy metals, my favorite. I kept the rest of my face really simple, with a nude/pink lip. As for my hair, just a tease at my root and a little cream through my ends. Voila. I'm easy. The quicker, the better. I'm so low key when it comes to getting red-carpet ready!
It's my first time ever visiting the Chateau Marmont and besides rubbing elbows with all the Hollywood ingenues, I was certainly enjoying the suite life. This lovely suite had a super cool, retro kitchen and dusty pink bath tub. Oh, and you know me, I never go anywhere in LA without my entourage. By entourage, I mean my mom and dad. Being in Los Angeles for work allows me to spend more time with them. They enjoy getting to be a part of the glamorous part of my job. The travel, the hotels, the food, the scene, and the clothes. I love being able to share all of these fabulous moments with my family and friends. The Chateau Marmont is Old Hollywood at it's finest. It feels completely untouched from the 1920's. It's certainly an interesting place to be. Dark and moody, the best spot in the house is at the bar by the pianist. W Magazine and Armani Beauty, thank you for transforming the penthouse into a stellar night celebrating "The Best Performances" this awards season!