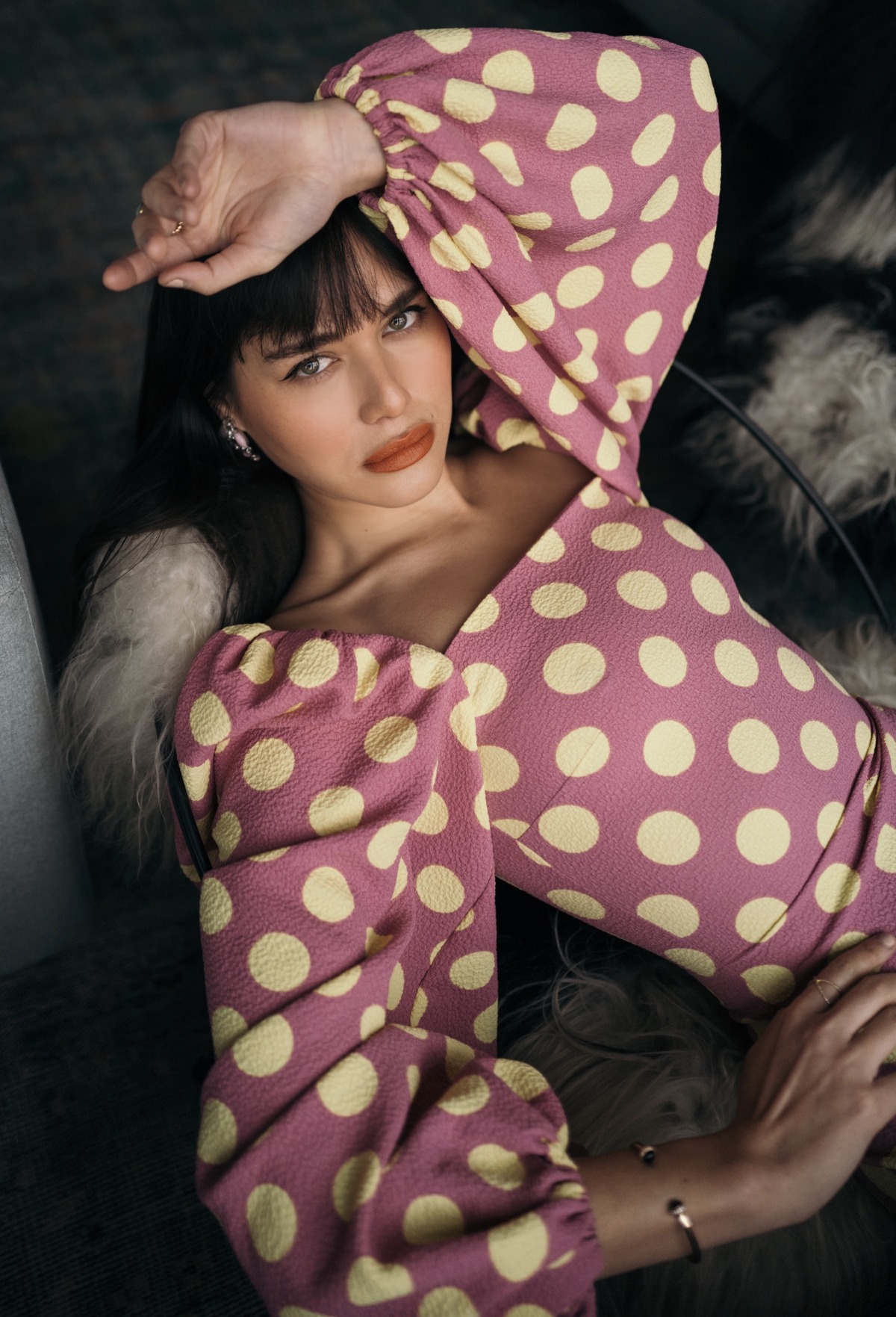 // Stine Goya dress //
I hope everyone is feeling healthy during this crazy time! The city has never been sleepier. We're all inside our homes, making the most of our day, and following the news by the hour. I've been working a lot from home. Luckily, all of Team Suarez lives and works from Dumbo. Dylana and I are neighbors! I'm really just using the time to improve my wellbeing, get more sleep, practice the things that I love like singing, and planning for the future. It's nice having those extra hours each day to really just dedicate to the things and people you love. Trust me, it's therapeutic to swap out our sweatpants for a pretty spring dress, and continue to do your makeup each morning. It's funny how the simple act of putting a minimal amount of makeup can me feel 100% better, more alive, and excited to take on conference calls from my desk. This is a full Em Cosmetics look that takes a little under 5 minutes to create. I call it "Faded Clementine" which happens to also be the name of my lip cloud. Em Cosmetics specializes in these essentials that make me feel pretty even if I'm staying inside all day.
This is what I used:
Em Cosmetics Illustrative Eyeliner in Black. Lasts all day. Doesn't smear. Fits in my purse. I never go a day without a flick.
Em Cosmetics Heaven's Glow Blush in Magic Hour. This is a peachy-pink that works on just about every skin tone. It's both a blush, a bit of a bronzer, and a highlighter in one. I use this one on the apples of my cheeks, the tips of my nose, and along my jawline. It immediately makes it look like my skin was kissed by the sun.
Em Cosmetics Infinite Lip Cloud in Faded Clementine. This lip cloud is both creamy yet finishes off matte. You won't have any dry lips here! It's moisturizing and soft!
Em Cosmetics Micro-Fluff Sculpting Brow Cream. I keep this in my bag at all times. A brow cream makes my eyes look away by fluffing my eyebrows up and out. Sometimes, I just use this and a little concealer when I'm running around the neighborhood. This is an essential.