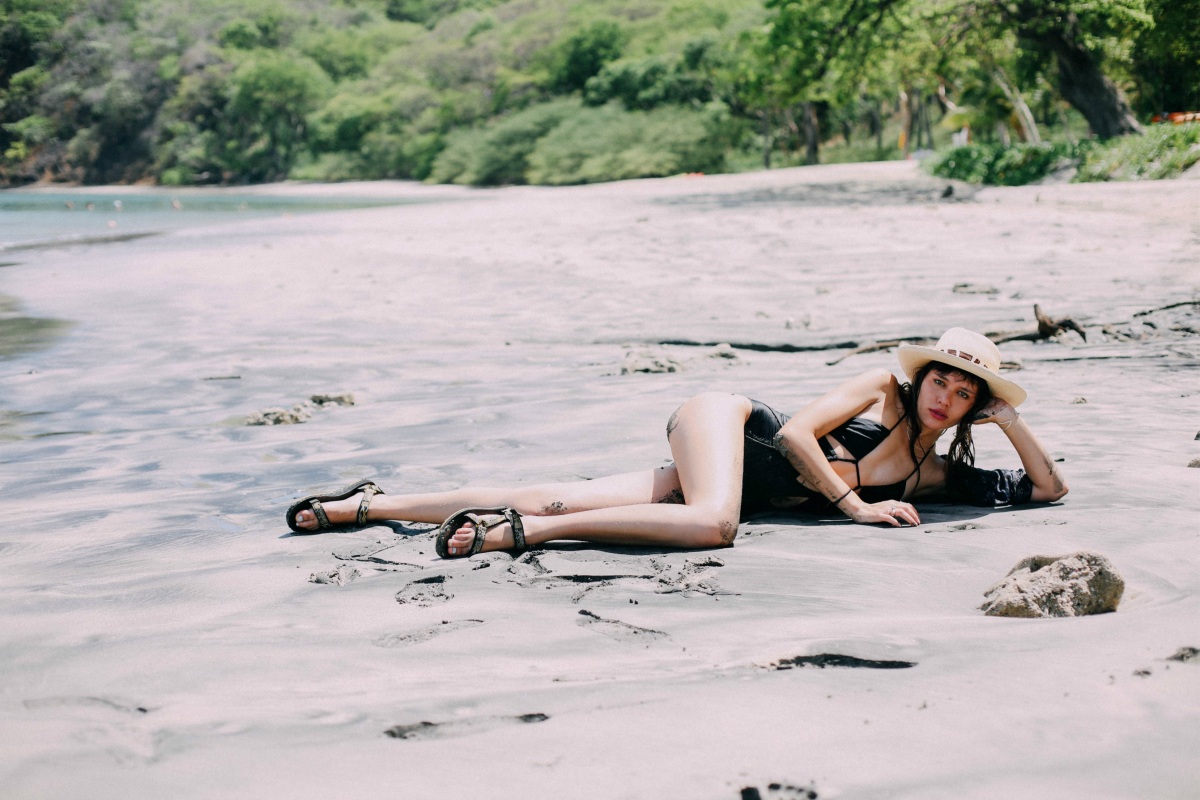 My adventure monkeys and I have been planning an epic getaway to surf, sunbathe, and explore. Costa Rica seemed like the perfect place. There's something so special about those empty beaches and lush, humid jungles. Plus, I love any excuse to wear a bikini along with one of the best travel shoes around, Teva. Through the years, I've collected so many pairs. Each have their own tale. Trails from the ocean, the cobblestone city streets, roadtrips through the South, and the California desert. They're ideal at home for hot summers in the city, but of course they're even better when traveling in the most exotic of beaches. I traveled with my two favorites, Kiara Schwartz and Dylana (duh)…with a little help from our photographer/videographer pal, Mike Bish. We love the outdoors and we're not afraid to get a little grimy. We live for that adrenaline rush. We all live in different cities…LA, Vancouver, and NYC, so the pura vida lifestyle of Costa Rica made for a rejuvenating and memorable reunion.
We began our trip at Peninsula Papagayo, the exclusive beach just by the Four Seasons where we stayed for the first half of our trip. I totally recommend visiting this Four Seasons. But, seriously. It's unlike any other of the resorts complete with gigantic infinity pools overlooking the water, one of the best spas (yes, we got a killer massage and the plunge pool is like WOAH), and crystal clear waters. It's so removed from the rest of Costa Rica which makes it feel like you're far away from everything else in the world. Our villa was out of a little fairytale. Though we did spend a lot of time by the pool and diggin' into the classic Costa Rican dishes, most of our days began at 6am and ended being in bed straight after dinner. The wonderful thing about tropical destinations is just being about to go with the flow. Waking up early to the sounds of the birds and monkeys, and falling asleep with the buzz coming from whatever is up in the trees. It's a lot like sleeping a low hum. Every day was spent on our feet. We were always covered in sand or sweating out butts off in a pair of denim shorts. Bug spray and endless amounts of sunscreen are necessary when hiking…taking an 11 series zip-lining tour…climbing down rocks to get as close to the waterfall as possible. All strapped into our Tevas. What would you do without them on a trip like this? I really don't know. But my feet thanked me that's for sure.
From Peninsula Papagayo, we went straight for La Fortunado, famous for it's gorgeous jungle. We were ready to get down and dirty for a more rustic adventure out in nature, looking for snakes and exotic animals. We hopped in a van for a late 3 hour ride catching the most beautiful sunset. It was red like fire. Talk about pulling off the side of the road and taking a breather, and really just soaking in how beautiful and magical Central America really is. The next half of our journey awaits. Stay tuned.
featuring:
TEVA original sandals, slides, and flatforms
-Suboo black swimsuit, Gentle Fawn cover-up, Frankie's yellow swimsuit, Wildfox green swimsuit, Vitamin A brown swimsuit, SINGLE silk kimono, Aerie red one-piece.
-Jewelry by Sabrina SL and Phyllis + Rosie
-Maria Castelli backpack