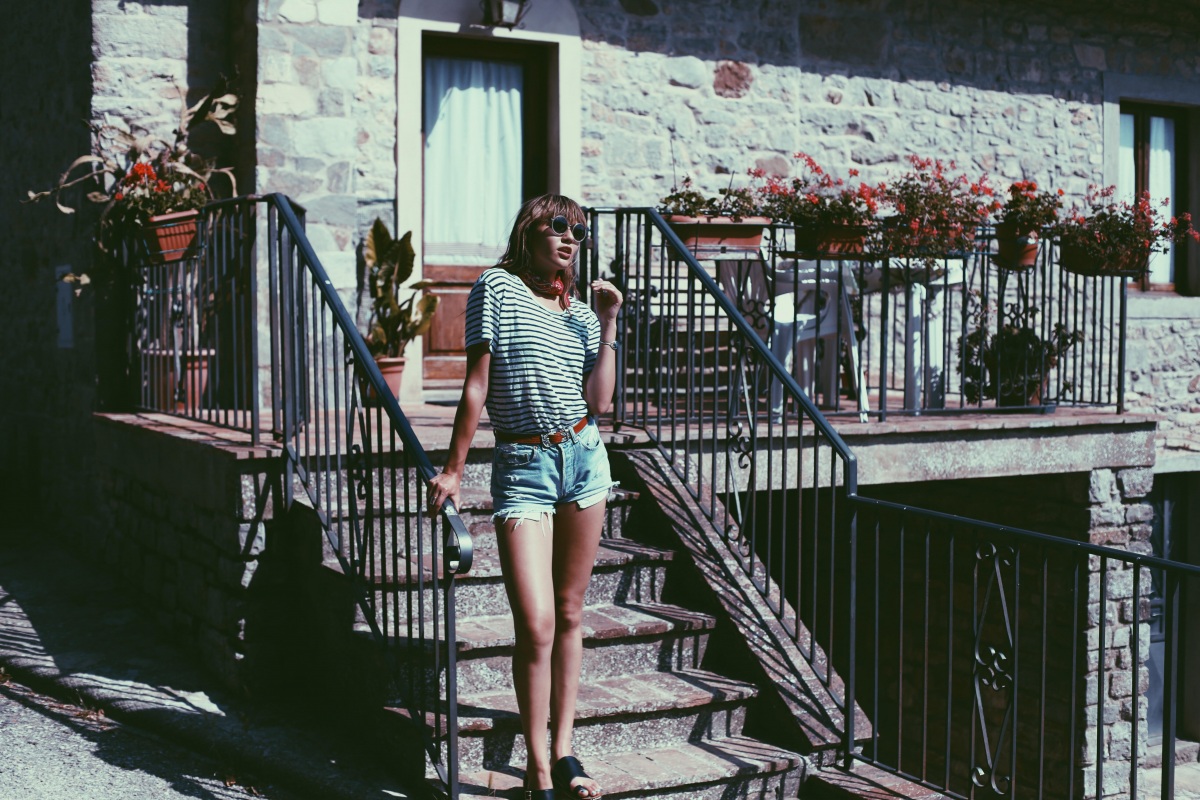 We were pretty excited to leave the heat of Venice, and hop into our tiny air conditioned Fiat 100. On our way to Porto Santo Stefano, we detoured a bit, and made sure to drive through the beautiful winding roads of Tuscany. Out tiny two-seater could only fit us and our suitcases stuffed with swim trunks and suncreen. Our bellies were grumbling by the time we found our exit in Chianti. Past the beautiful vineyards and olive groves, we noticed a small wooden sign that said "L' Osteria. Aperto." Restaurant. Open. We pulled into the driveaway of a tiny church, beautiful Renaissance-era homes that looked untouched for centuries, and an old man smoking a cigarette, reading the paper on the porch of the restaurant, Il Rifugio Del Chianti. Quiet, but we figured we attempt to get a good meal. We walked in only to find another man dead asleep on a chair and a strong whiff of smelly cheese coming from the kitchen. We managed to wake him and had him stir us up a simple cheese and proscutto panini. No sauces. Untoasted. But it was incredibly delicious.
We sat outside the little L' Osteria, and met Marco…the old man on the porch. He seemed happy to have some visitors to chat with. With my Italian being so bad, I just nodded and smiled, as Mickey did all the talking. We found Marco lived right next door to the restaurant, and probably sat there every single day, simply smoking a cigarette and reading the paper. He called out to his daughter to come out and meet his new friends! Carlota was sweet and spoke very good English. Her main question to us was "why do Americans come here? To Italy?" We started laughing. I guess I understand why she didn't get why us Americans, coming from the Big Apple, found her little town of 18 people (yet perched so beautifully on the side of a mountain) to be charming. It's true…why Italy? Maybe it's for the romance, the adventure, the accents. Maybe it was just to get a bite of that simple cheese and prosciutto panini…something I'd normally never order back home in NYC. But it was all of these things. Italy is a place unlike any other. Us Americans just want a taste of it.
They helped us map out our way out to Porto Santo Stefano, and took off, tired as can be. I knew we would be arriving way past midnight to the hotel going at our rate. But we were in no rush. That's the beauty of traveling. Making your own schedule and going with the flow. We bought some wine at the vineyard of Castella d' Albola, but we really we just needed coffee. Driving under the hot Italian sun was making me sleepy. With one last pit-stop, we met the lovely Maria Pia! Her name rhyming and rolling off my tongue. I couldn't help but feel right at home with just one look at her bubbly, smiling face. She served us extra strong espresso and homemade biscuits for the road, knowing we still had hours of traveling ahead. We were on our way.
// Raen sunglasses, RED23 tee, Coach sandals, Free People bandana, Vintage shorts and belt //