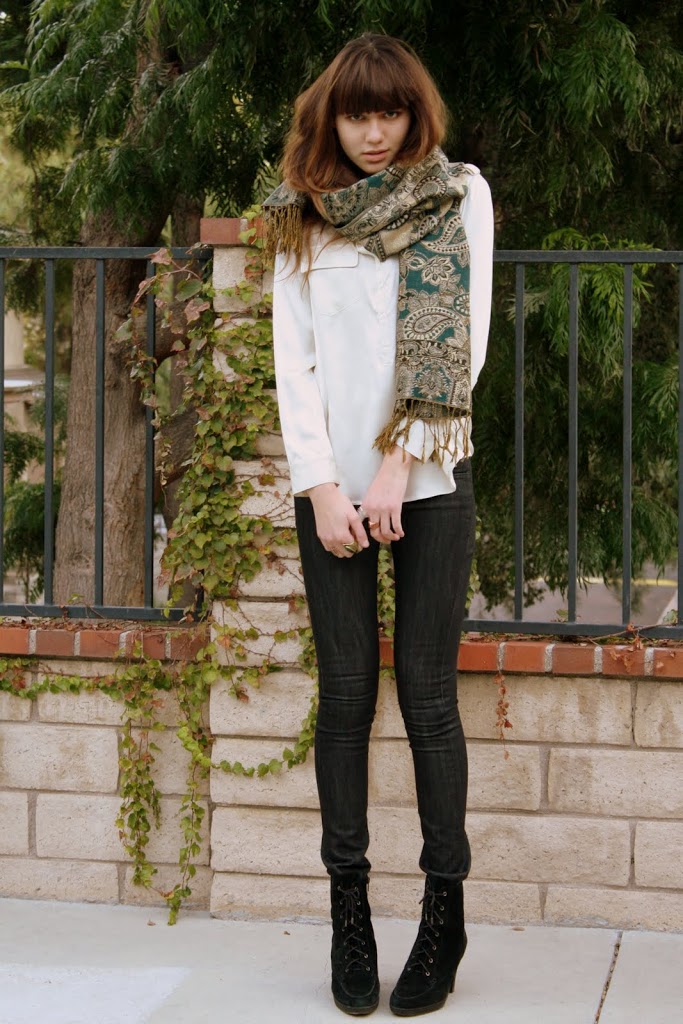 (
Calista
blouse, Forever 21 scarf,
Rue De
Jeans, Banana Republic shoes)
I finally found some time to take a few snapshots of my outfit. Whenever I'm busy working during the week, sometimes I have to get up as early as 5:30 and I'm in no mood to look through everything in my wardrobe. That's when I find myself grabbing a basic silk button-up blouse and a great pair of skinnies. The perfect uniform, wouldn't you agree? The blouse is so soft, I just wanna touch myself in it hehe. It's made by Calista, the NYC designer label I recently did a shoot with while I was in NY! Remember this post? And this one? Yep, I'm still a huge fan of Calista and am dying to go back to NY and meet up with the designer duo to see more of their pieces. The jeans are from the new label, Rue De, based out of LA. Gaaaaa the fit is perfect and I can't stop staring at my butt in them! amazing! They're really unique in that their back tag is made of elastic, so they're comfy throughout the entire day…even after that burrito if you know what I mean. The scarfs a little something I picked up at the one and only Foreverrrrr 21. Gem tones are so fresh in the fall and make a simple look POP!
Night night my pretties! Gotta hit the books before bed. Got a shoot downtown tomorrow! Definitely looking forward to it! You know I'll keep you posted!