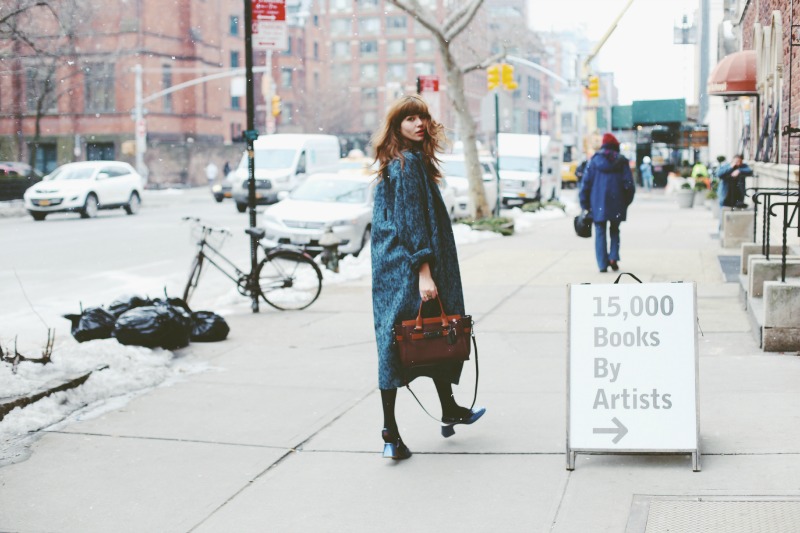 There's been so much excitement lately around Coach. I'm super stoked to be a part of the family! Day 1 of NYFW for me started off with the Coach Fall '15 show…always a favorite, surprising me everytime thanks to Stuart Vever's epic new vision, transforming this household name of a brand into something really special, edgy, and fresh. This NYFW has been so smooth sailing. Maybe it's from experience, and learning to just chill, despite the numb of our fingers and toes. The snow has been absolutely beautiful, making streetstyle shots breathtaking. But I always have that sigh of relief the moment I'm squeezed in the front row. Anything to be warm right? I've been throwing this giant coat from my friend's Chelsea store, ANTHOM, over just about everything. I loved it with my leather blue mod mini from the Coach Spring '15 collection. Blue on blue. These princess metallic slingbacks just the icing on the cake. I'm in love with the retro chunky heel that click-clacks with every step. It's official, the 70's are back.
shot by Dylana Suarez
// Coach Spring '15 leather mod dress, the "swagger" handbag, and sling shoes + shop Anthom coat //
SHOW TIME. Coach Fall '15 was RAD, beyond words. The shearling jackets with words "WANTED" on the back. Shoulder bags stating "LUCKY" across the front. I love these subtle statement pieces. Bandanas tied closely to the neck, you'd make any biker babe jealous. It's cheeky, but so rock n' roll cool. I love that "don't mess with me" attitude, given a super chic take. Hell's angels down the catwalk….who in no way will be needing an attitude adjustment.
// photos by me //