As of late, I have been super experimental with my makeup. I'm a one-palette type of girl. Urban Decay just released the incredible NAKED Smoky palette. It's like a makeup magician's must-have. With it, I can create as many looks as I want! From subtly bronze on a hot summer day, to full-blown dark and vampy for a night out on the town. The SMOKY palette goes from light to dark, with nearly every shade of brown, along with black, and rich purples and grey. I am beyond obsessed. With everything I need in one the palm of my hand, it's quickly become my travel companion. So here goes! I went 7 days with 7 completely different looks. Each a different part of my wild personality.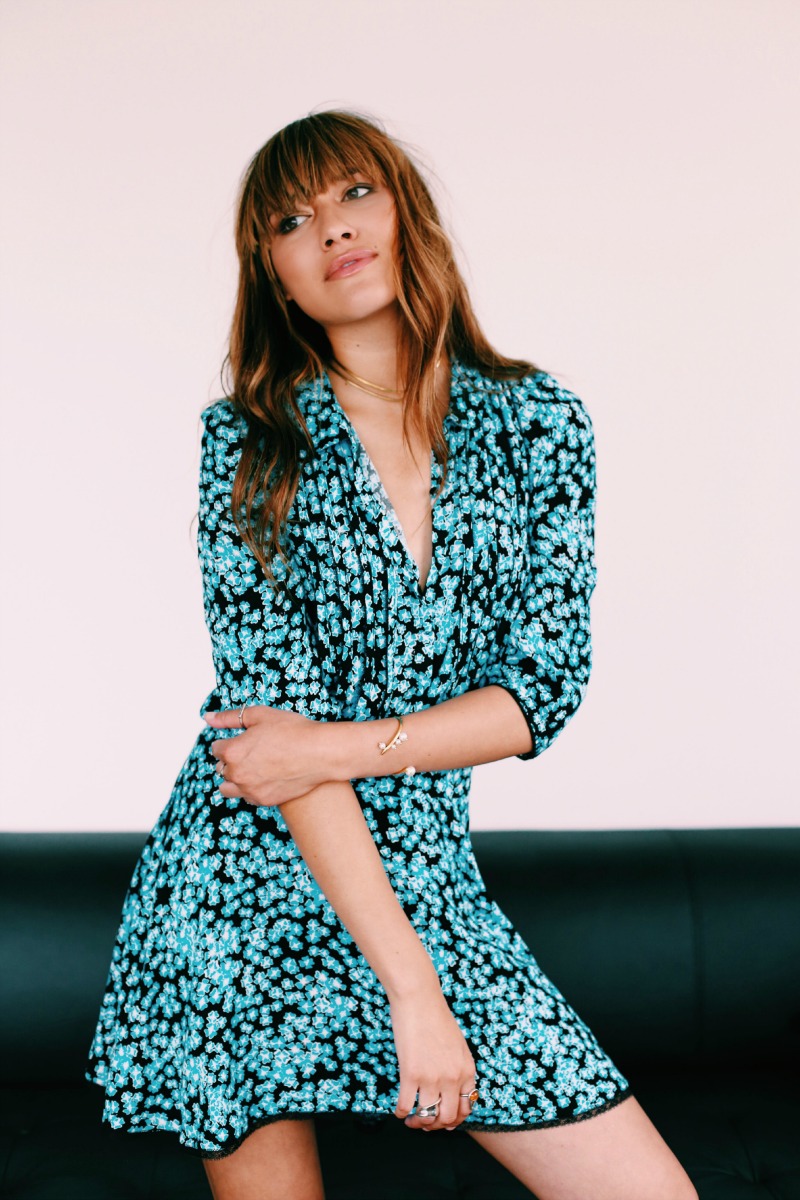 SUNKISSED:
This look is all about warmth. I feel healthier when I have that nice, summer glow. I sport this look when I'm at festivals, or at a weekend in Montauk. The light just hits this look the right way! Talk about summer goddess.
HOW TO: 
I recreated this edgy look by brushing Dirtysweet in the inner corner of my upper and lower lash line. Used Radar on my lid. Whiskey in my crease and along my bottom lash line. And High and Combust under my brow.
MOD WORLD:
I'm officially getting a hang of this new palette. I wanted to try something super editorial. Something that POPS. This look is so mod and 60's. I love it with my heavy fringe and a side braid.
HOW TO:
I used Thirteen on my entire lid. Black Market on the outer corner and into the crease to create a very defined cut create. And Perversion liquid liner along the top lashes. VA-VA-VOOM.
DATE NIGHT:
This is a subtle smoky look that is easy to create, and super sexy. It's the look I create when I really want to make my eyes look brighter. It's such a good date night look.
HOW TO:
I used High on my lid. Radar in my crease. And Whiskey to deepen the outer corner of my eye, blended into my crease. I finished it off with Radar all along my bottom lash line.
VAMP:
Sometimes I just want to go all out. I love a vampy, seductive look. Dark, charcoal lids. It's great for a party, and when I wear all black. Rock n' roll baby!
HOW TO:
I used Slanted on the entire lid, Armor in the corner of the eye, and Dagger in crease (smudging it along my bottom lash line). Then, I used Thirteen under my brow. These colors blend easily together, so don't worry about being too perfect.
THE EXOTIC UNDER-EYE WING:
One of my surfer friends from LA always lined her bottom lids, even at the beach. It looked so exotic, and gorgeous, especially with a bare face, and stained lip.
HOW TO:
I used Combust all over my lid..pressed to create very opaque coverage. Thirteen under my brow. And Dagger smudged heavily under my bottom lashes to create a smoky liner! I extended it to create a winged liner look.Sultry, and out of this world! I love the tribal, exotic vibe it gives to my eyes.
GRUNGE:
I live for Brooklyn concerts, and 90's grunge was a huge part of my upbringing. With that comes darkly shadowed lids made for a misfit, complete with a bubblegum lipstick.
HOW TO: I used Black Market pressed over lid and into crease. Dagger to blend out Black Market in my crease. High and Combust under my brow, complete with a pop of pink liner and lipstick in Obsessed!
PURPLE HAZE:
Purple may be one of the most flattering shades. This look is romantic, but still dark and sexy. Made for a garden party or masquerade.
HOW TO: I used Psychadelic Sister along the top lash line. Smolder pressed into my entire lid and into my crease. Password to soften the crease, and Thirteen under my brow. Complete with Smolder smudged along my bottom lash line.
VOILA. 7 completely unique, wearable looks. Phew, that was fun!
Check out Naked Smoky on UrbanDecay.com and be the first to get the palette when it launches July 8th!! photographed by Dylana Suarez