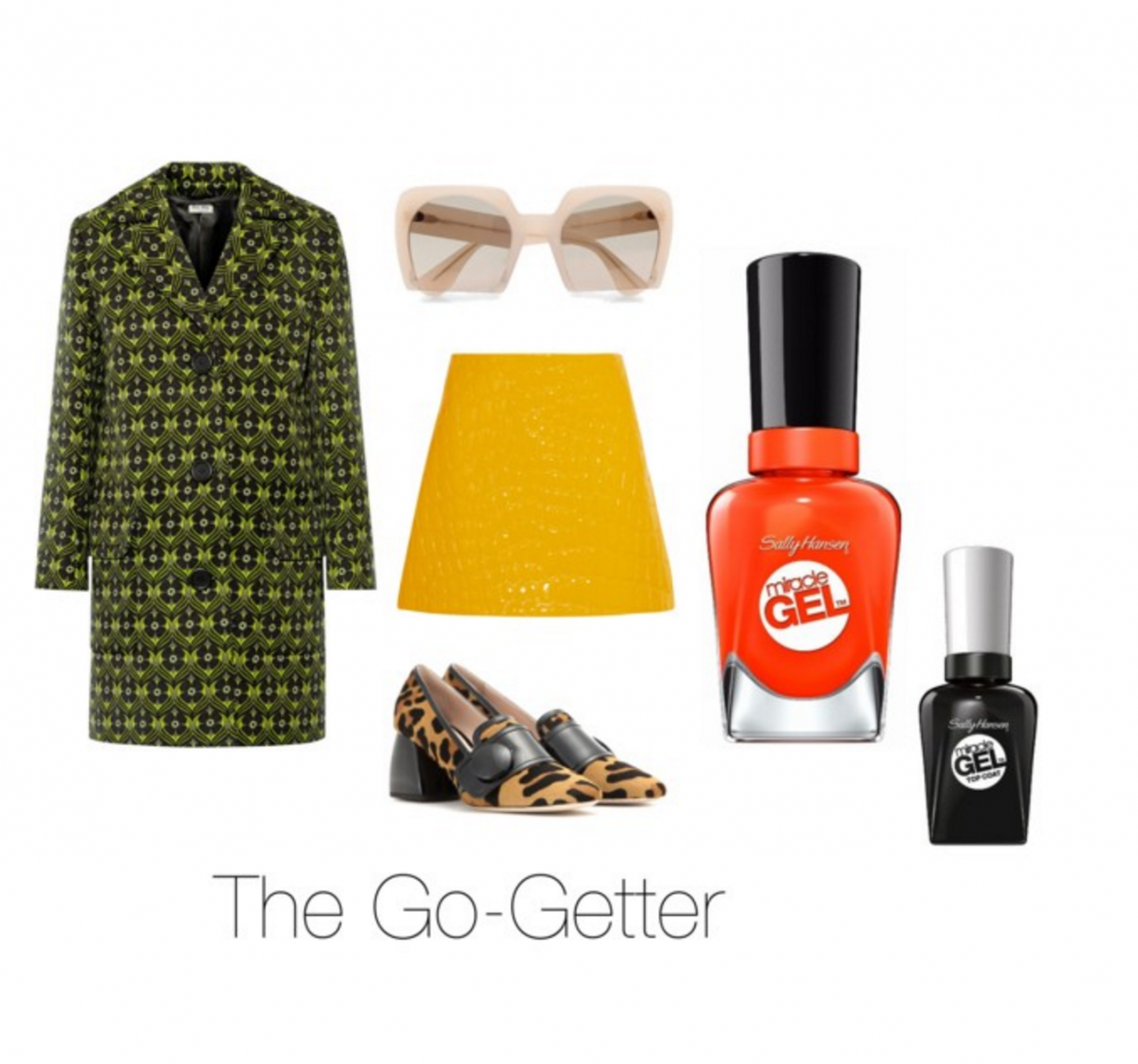 My friends always grab my hands, and go WOAH. Sometimes my nails are a bright orange. Other days, a metallic silver. Sometimes you'll find I'm bold blue during the day, and then have a swipe of nude nail polish for night. It's that easy for me. I LOVE to work my nail polish into my look. I'm eclectic, and I like my colors and nails to be fun, but still chic and sophisticated. Sally Hansen has just updated their Miracle Gel collection, and I am beyond obsessed. They just launched their Tribal Vibe collection which adds 7 sun-baked shades to their permanent collection. Oh, and did I mention their Miracle Gel Top Coat? It easily gives the polish the gel-like quality. Your mani/pedi lasting up for 14 days, with beautiful high-gloss shine without the need for harsh UV/LED lights. This at-home nail system is definitely the closest thing to getting an a salon gel manicure at home. I'm always on the go, so I pack them too. Whenever I need a refresh.
Now, take a peek at some of my favorite looks, inspired by the Sally Hansen Miracle Gel "Tribal Vibe" collection.
THE GO-GETTER: 
For the babes who love color, and lots of it. Coats and skirts taken from your grandmother's closet, but with a hip, cool twist.
// Sally Hansen Miracle Gel nail polish in Tribal Sun and MIracle Gel TopCoat + Miu Miu coat, skirt, sunglasses, and shoes //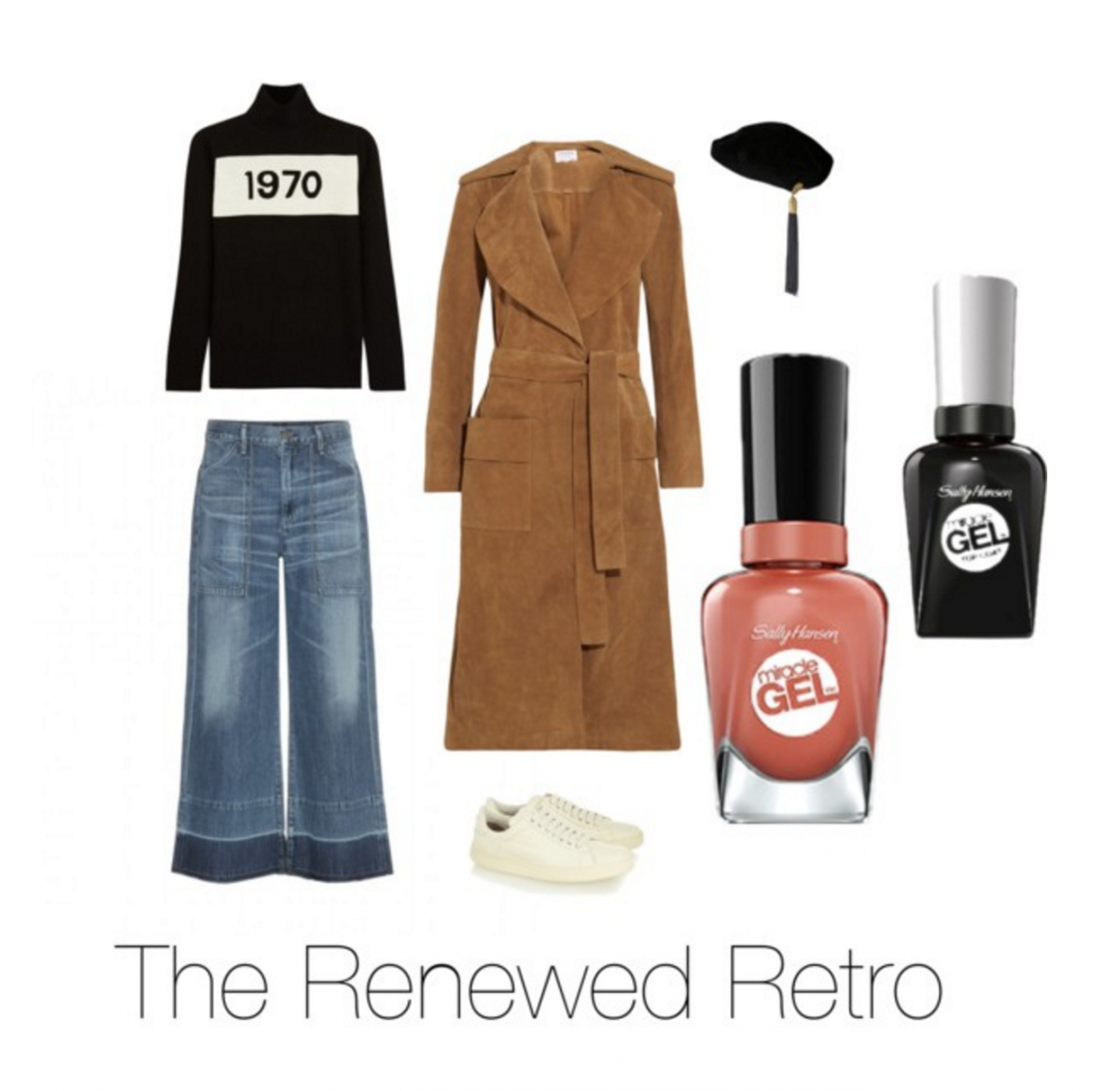 THE RENEWED RETRO: 
This nail color is called "Per-Suede". It totally has that vintage vibe. A classic dusty rose color that goes with just about anything. I like it with a 70's inspired duster coat, turtleneck, and rad denim culottes. It's fun going back in time.
// Sally Hansen Miracle Gel nail polish in Per-Suede and Miracle Gel Top Coat, Frame Denim coat, Bella Freud sweater, Citizens of Humanity jeans, Tom Ford sneakers //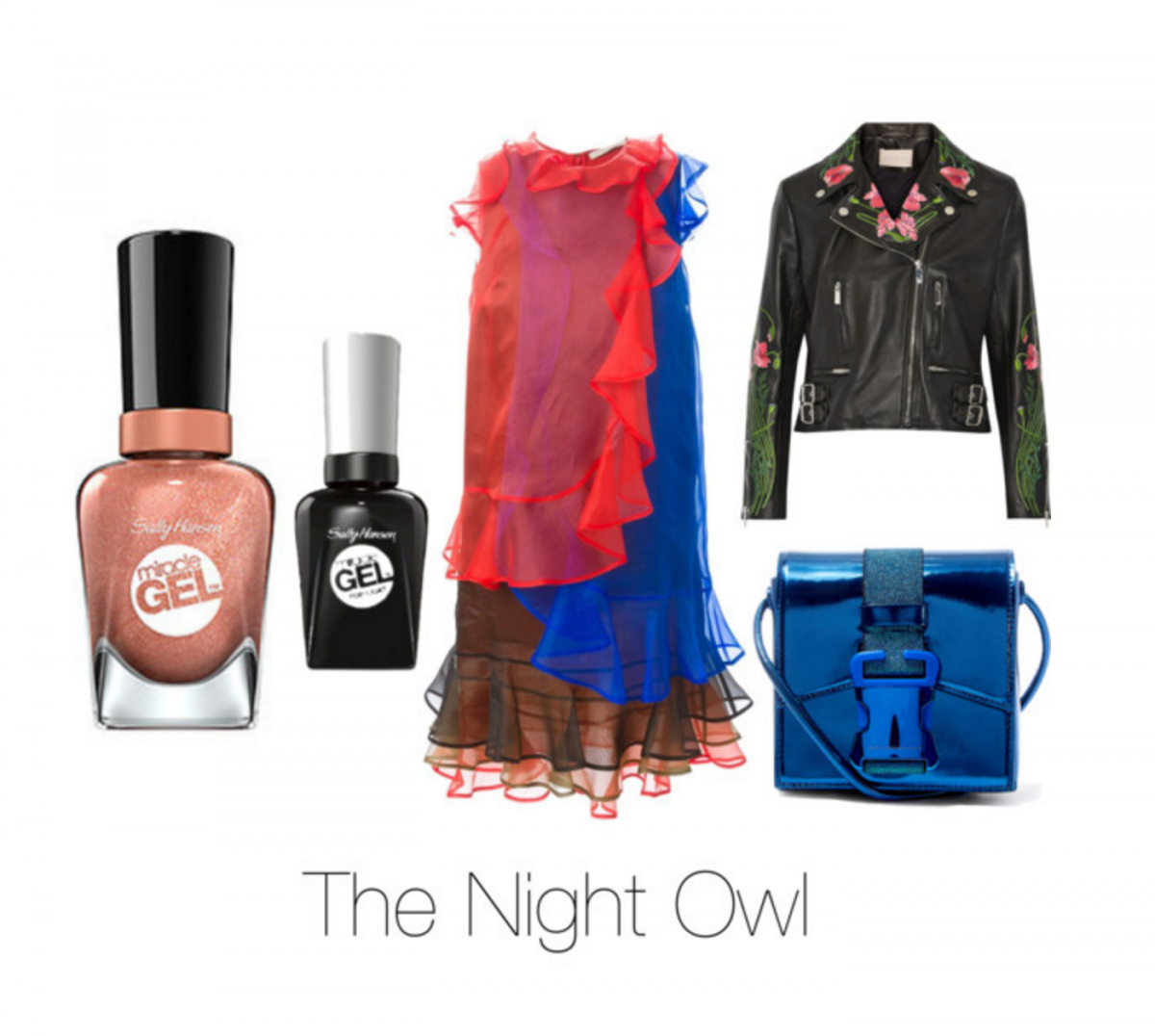 THE NIGHT OWL:
I love sparkle and shine. And this nail polish in Terra-Coppa sparkled under the disco ball. It's neutral enough though to wear with your craziest party dress, and metallic handbag. Make it rocker-chic with a leather moto jacket.
// Sally Hansen Miracle Gel nail polish in Terra-Coppa and Miracle Gel Top Coat + Christopher Kane dress, jacket, and handbag //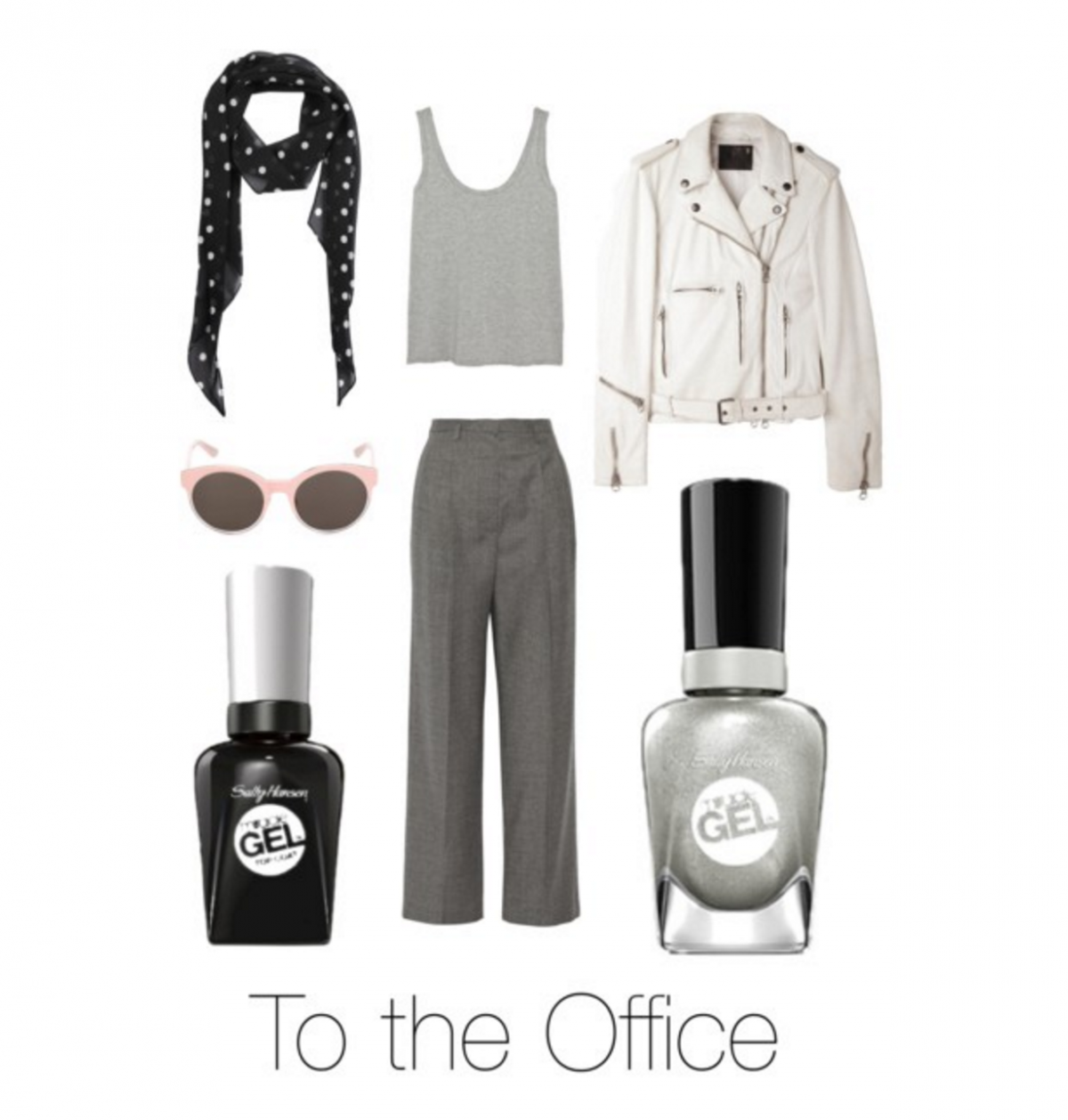 TO THE OFFICE:
For any work meeting, I'm normally rushing and running late. Swiping on something quick on my nails. Doing that last curl in my hair. But when it comes to everything else, go for something simple but refined. I don't like too simple, so I let my accessories like my nails show a bit more of spunky personality.
// Sally Hansen Miracle Gel nail polish in Buffalo Nickel and Miracle Gel Top Coat, Vintage jacket, The Row top, The Row pants, Saint Laurent scarf, Dior sunglasses //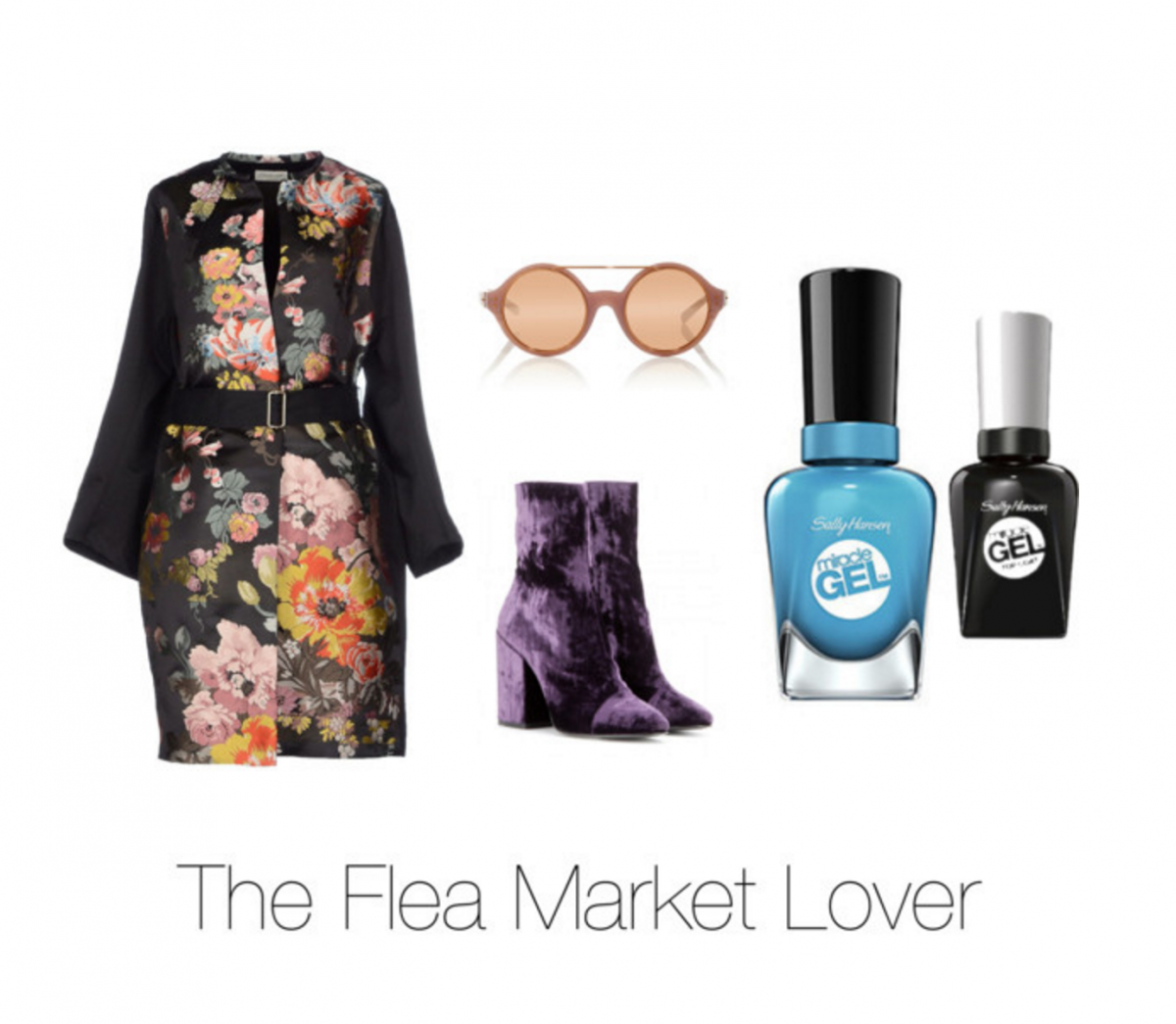 THE FLEA MARKET LOVER:
What I love most about scouring vintage or vintage-inspired items is that there's always colors and textures, and fun proportions. This nail polish in Rhythm and Blue defines this. Going with the flow. Taking in the vibrancy of city life. Blue skies and all. I like this pop of blue with blacks and purples. Think Mick Jagger.
// Sally Hansen Miracle Gel nail polish in Rhythm and Blue and Miracle Gel Top Coat, Dries Van Noten dress + boots, Linda Farrow sunglasses //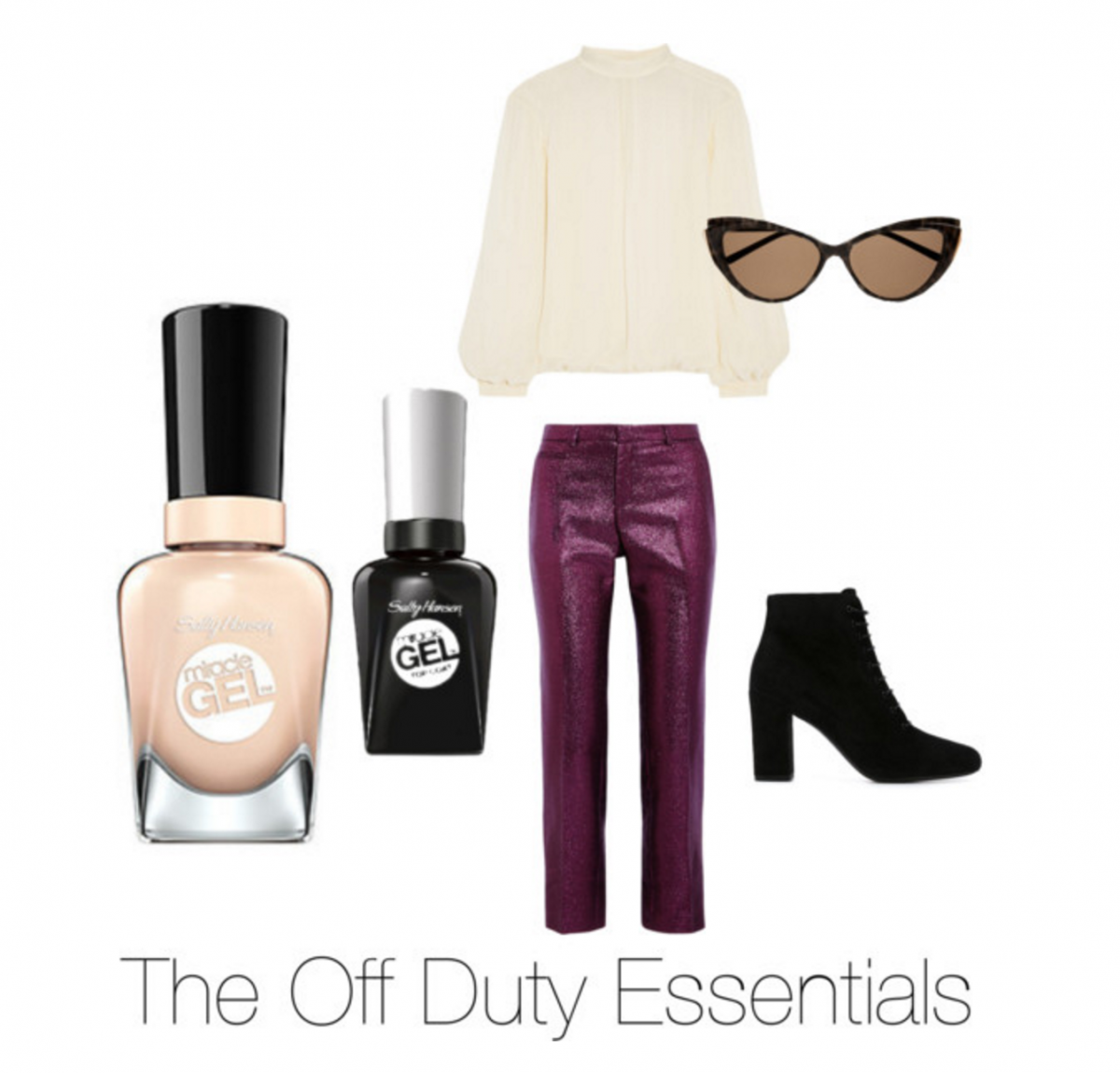 THE OFF DUTY ESSENTIAL:
There are certainly days that I have absolutely no energy to get dressed. It normally waves over me after fashion weeks. I go for the basics. What works. (But yes to sparkly pants) when everything else is nude and black. This nail polish in Cream of the Crop is an OFF DUTY essential. Taken on set of my photoshoots and travels.
// Sally Hansen Miracle Gel in Cream of the Crop and Miracle Gel Top Coat, Christopher Kane blouse + pants, Saint Laurent sunglasses + boots //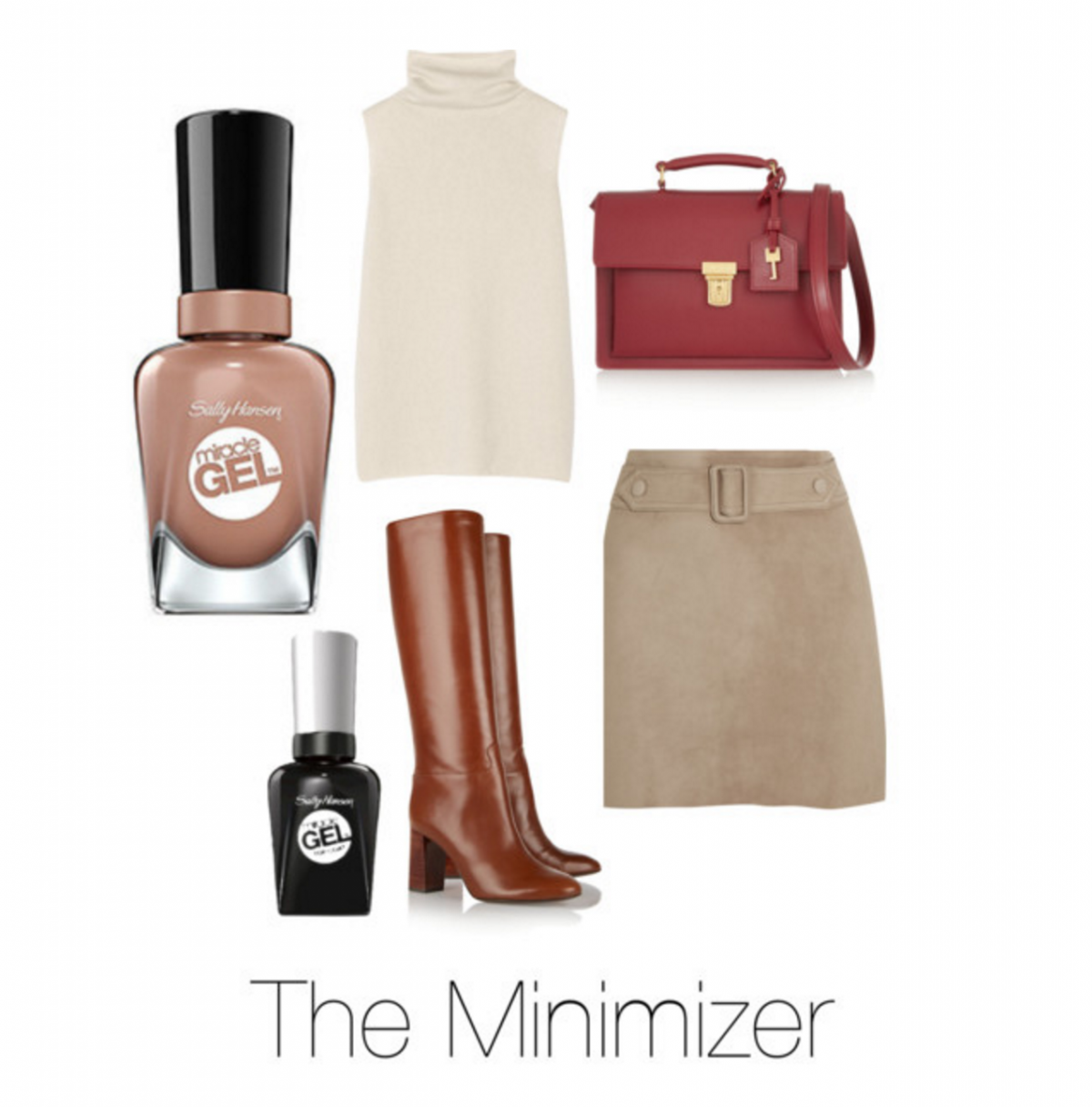 THE MINIMIZER:
I recently donated almost my entire wardrobe. Keeping only the most minimal, quality pieces. A lot was nude and neutral. Less is definitely more. And sometimes going all monochrome is the chic-est thing on earth. Go for Sally Hansen's Totem-ly Yours polish to complete the look.
// Sally Hansen Miracle Gel nail polish in Totemly Yours and Miracle Gel Top Coat, The Row top, Calvin Klein skirt, Saint Laurent bag, Tory Burch boots //