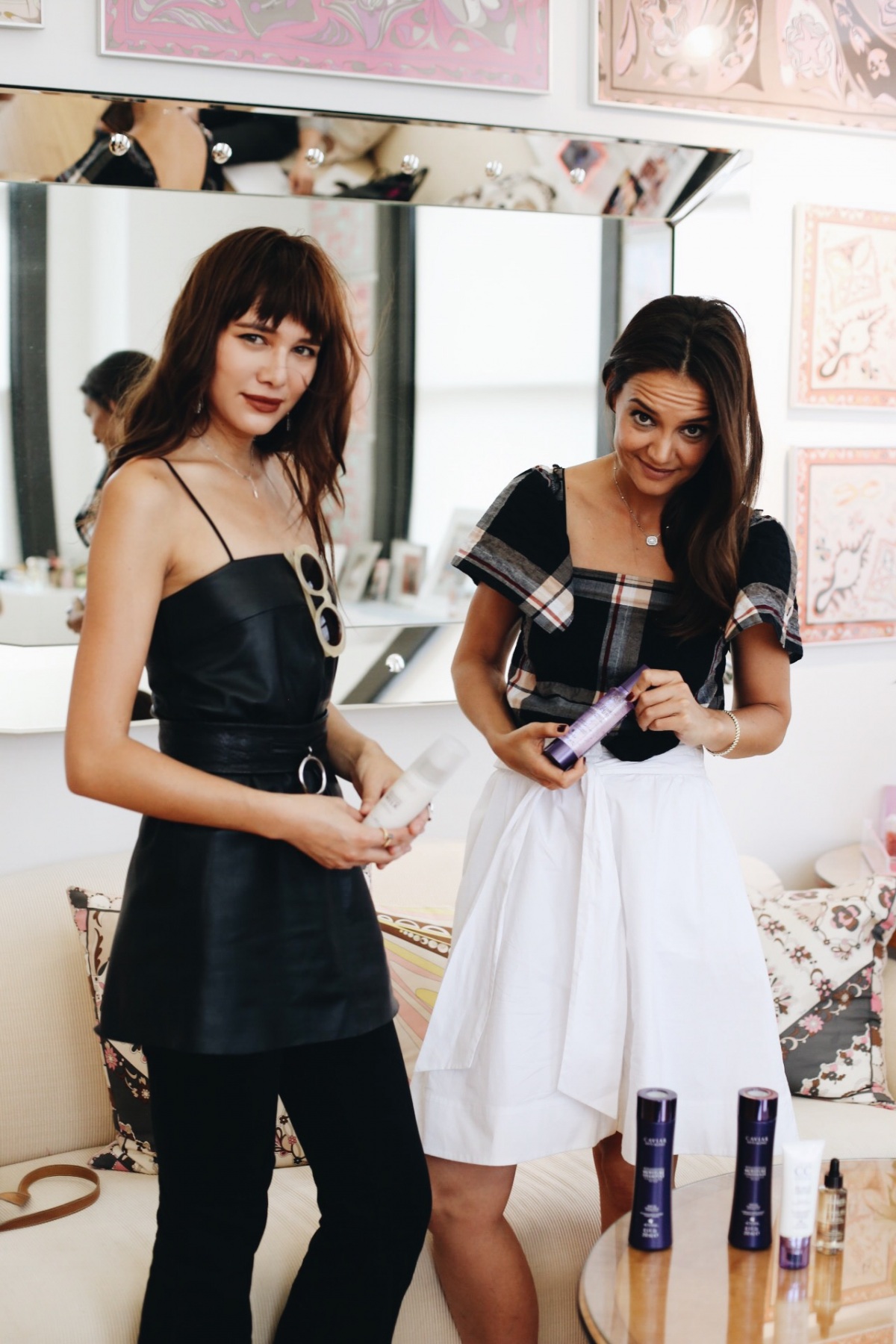 I sat down with Katie Holmes to talk all things hair and get the full Caviar experience from Alterna Haircare. Alterna's Caviar collection contains caviar extract, which helps create younger looking hair. I fell in love with this collection. It completely made my hair feel stronger and a lot more hydrated. Caviar extract contains a rich source of Omega 3 Fatty Acids…something all of our hair really needs. It was amazing getting to learn more about a brand that I've used for so long. So I sat down with the beautiful Katie Holmes to dig deep into her hair routine.
Me: What is your favorite product from Alterna at the moment?
Katie: I've been working with Alterna for 4 years and I love that this company was started by a man who worked in our industry. He was a hair stylist and knew the importance of working with healthy hair. He created this product that is parabon free. Ingredients that work. Ever since I started using it, it's much shinier and healthier. With my job, it's important to sit down with really good hair. My favorite is the Caviar Shampoo and Conditioner. In the summer, when my hair gets really dry, the replenishing milk is really nice after the shower. It doesn't make your hair feel products or greasy.
Me: What is your favorite off-duty hair style? Something you sport on a Sunday?
Katie: It's usually in a bun on the top of my head. I've been doing a topknot before the term top-knot.
Me: What is your favorite red carpet look?
Katie: For the most part, it's usually down. With the exception of a more formal event, we'll do it up…or if the dress begs for a bare back. I'm always looking for inspiration photos. It's more fun that way, and you can sort of tell your own story in your head.
Me: Who inspires your beauty routine? Travels? Someone you grew up with? What's taught you to take care of yourself?
Katie: It's all of those things. Definitely what my mother taught me. That beauty is from the inside out. Eat well. Exercise. Get your rest. Take care of yourself. And putting good products on your hair. On your skin. That'll make you feel better and give you longevity. I get inspired when I do travel and meet women from all over the world and see what they do. Inspired by their different cultures. It is all of those things. Being a mother, I see what example I'm giving to my daughter by showing how I take care of myself.
Me: Have you experimented with different hair colors? Is there something you really want to try?
Katie: I dyed my hair once and it took a while to grow out. I'v been hesitant, and been more willing to stick a wig on.
Me: What makes you feel most confident and beautiful?
Katie: It's when I feel good about the work I'm doing or just my life overall, I feel good and I feel beautiful. I also try to maintain a good outside appearance with these products. So everything is working.
Me: What is the wildest look created for you on a film set?
Katie: I just did a movie called Coup d' etat with Michael Kane and Odeya Rush. We were down in Savannah, Georgia. My character was a daisy duke wearing woman. Not huge hair, but a bit messy. It was a little more free and different from my normal hair style.
Me: What's it like working with Alterna?
Katie: It's been a wonderful experience. Everyone who I've talked to now uses is regularly because it's just that good. It smells good and it's good for your hair. I keep the Bamboo Kendi oil with me, because I can frizz easily and it helps with that. It maintains healthy hair. When you have healthy hair, you can do whatever you want with it.
Shop the Alterna's Caviar Collection HERE!