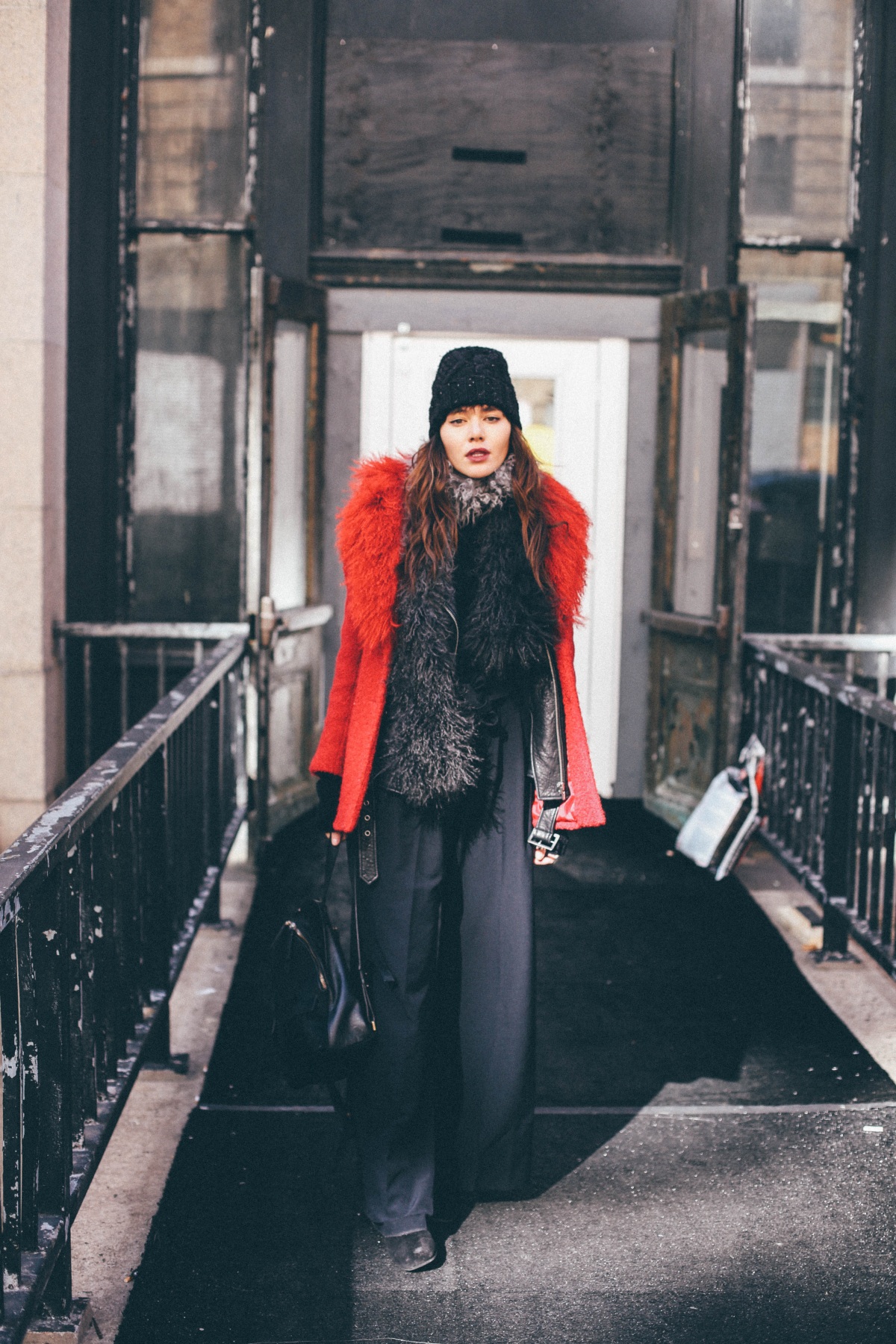 BRRRRRRRR!!! New York City, you are absolutely freezing, but I still adore you! New York Fashion Week is in full swing, and figuring out what to step outside the door in is always so tricky. I've decided on pants under dresses. Tights under pants. Turtlenecks under…sweater turtlenecks? It seems that every NYFW in February gets tortured with a good 5 degree mark. Only the fittest survive I assume. Here I am, backstage at Noon by Noor over the weekend, in one of my favorite simple looks. A dramatic wide-leg pant by Milly. Leather vest by Veda. Absolute killer ombre scarf by Charlotte Simone. And my pop of color: mom's vintage coat. Don't go outside without a beanie unless you want frostbite.
As for keeping track of my daily activites, I've been keeping my schedule in check with notifications from my new Android Wear watch. It's chic, and I'm totally obsessed. I prefer to keep my phone off during the shows, and if I have something urgent, my watch will notify me. It keeps me less stressed, and a lot more on top of things. You can see more of how I style my watch on Instagram (along with a lot of my latest looks!)
But this whole month has been extremely CRAZY. Last month was crazy. This month is crazier. I've been shooting everyday. See some BTS behind my Wildfox and Desigual shoots here. Then, I suddenly became a HOME OWNER. I finally got the keys to my new loft, and I'm working on planning on when furniture gets delivered, where I'll be hanging my coats (etc, etc) ALL DURING FASHION WEEK. How did this happen? I have absolutely no clue. All I know is, I can't wait for my beach getaway this weekend, and a really really good deep tissue massage. Just a few more days till that much needed R&R.
Now take a peek at some of my favorite shows this season.
Kate Spade Fall 2016. Presented at the the Top of the Rock in the Rainbow Room, it was beyond gorgeous. Pinks, bows, but with that unexpected edgy shearling leather jacket (I need!)
Desigual Fall 2016: super 70's. The prints, colors, and berets were so on point. I love their eclectic, happy collections season by season. I'm so excited to be working with this Spanish brand this year.
BCBGMAXAZRIA Fall 2016: Metallic tights are officially in!! YES! The layering in this show reminds me a lot of how my sister and I dress. Stripes under our overalls. Long duster coats with midis. Vests over jackets with a cinched waist. All of it, so inspiring.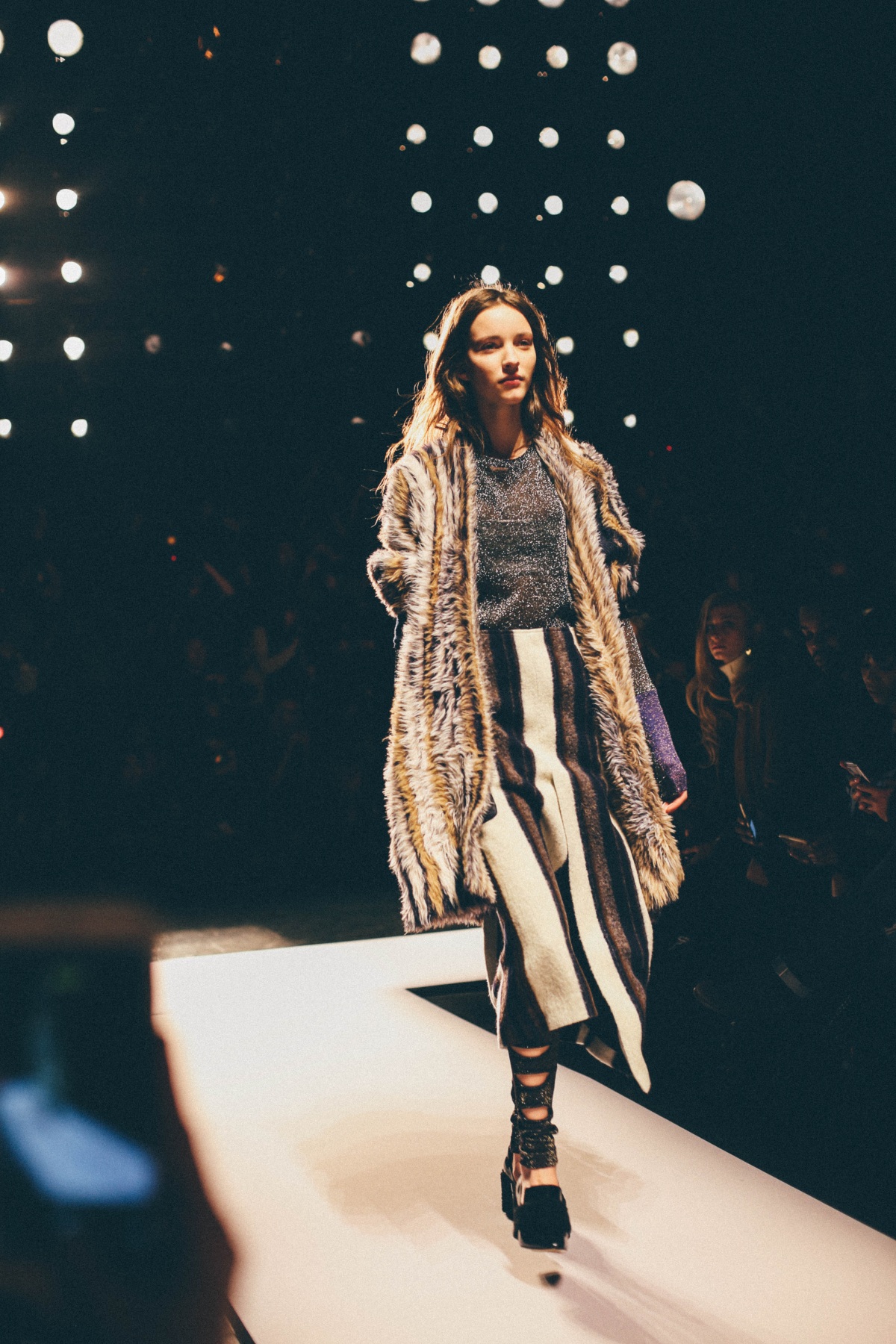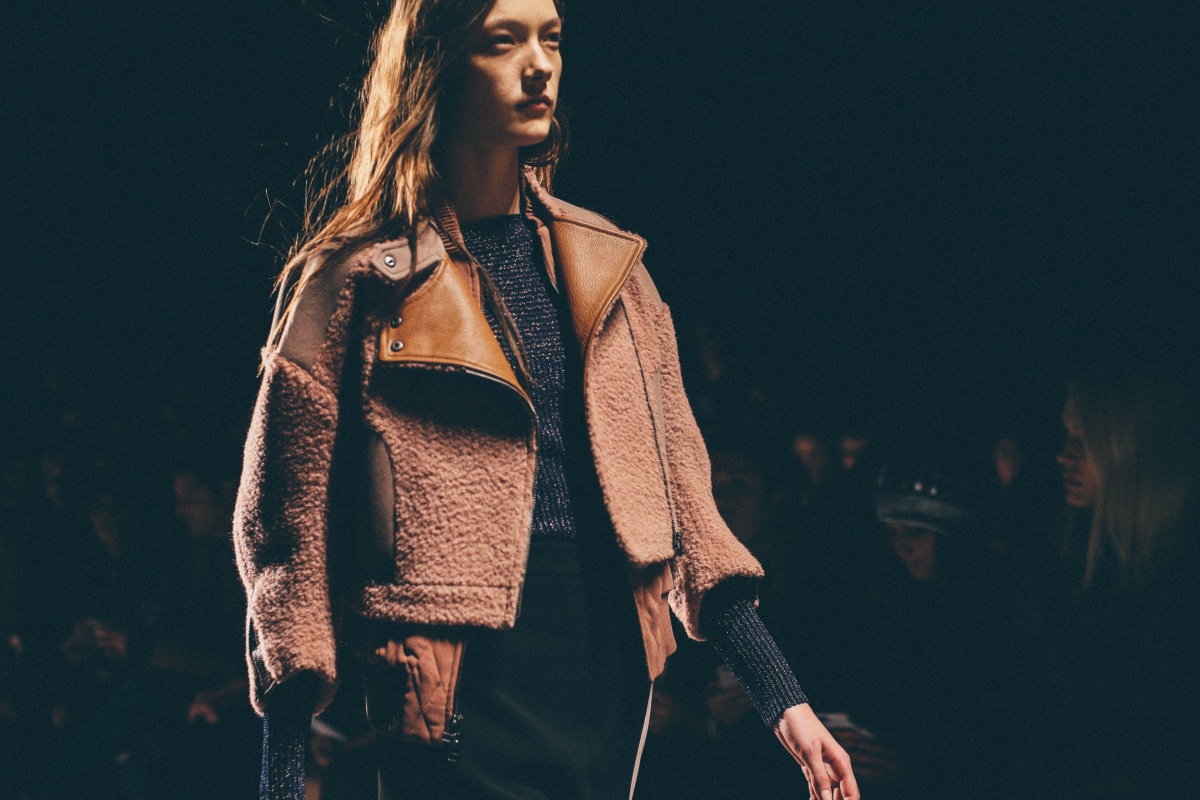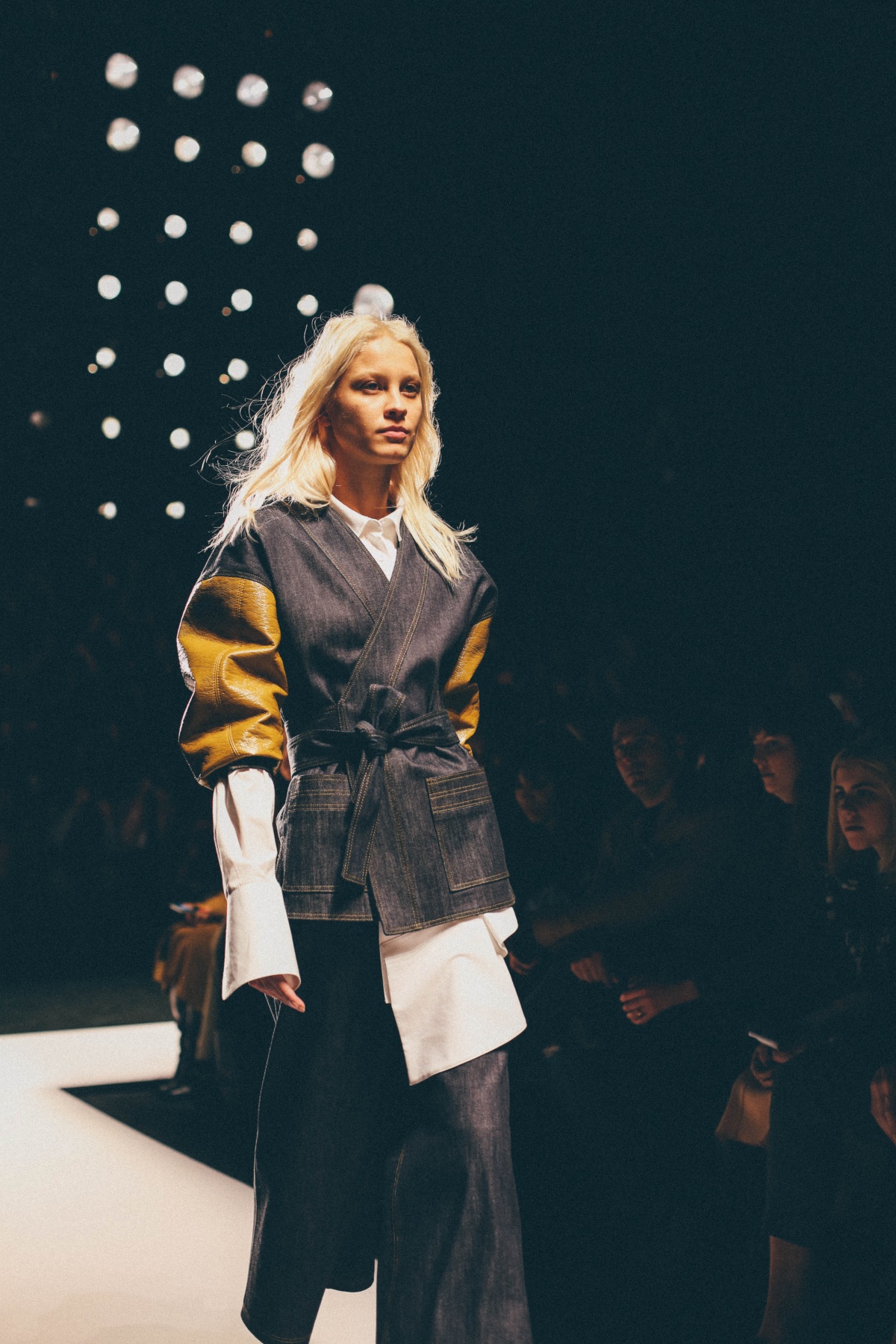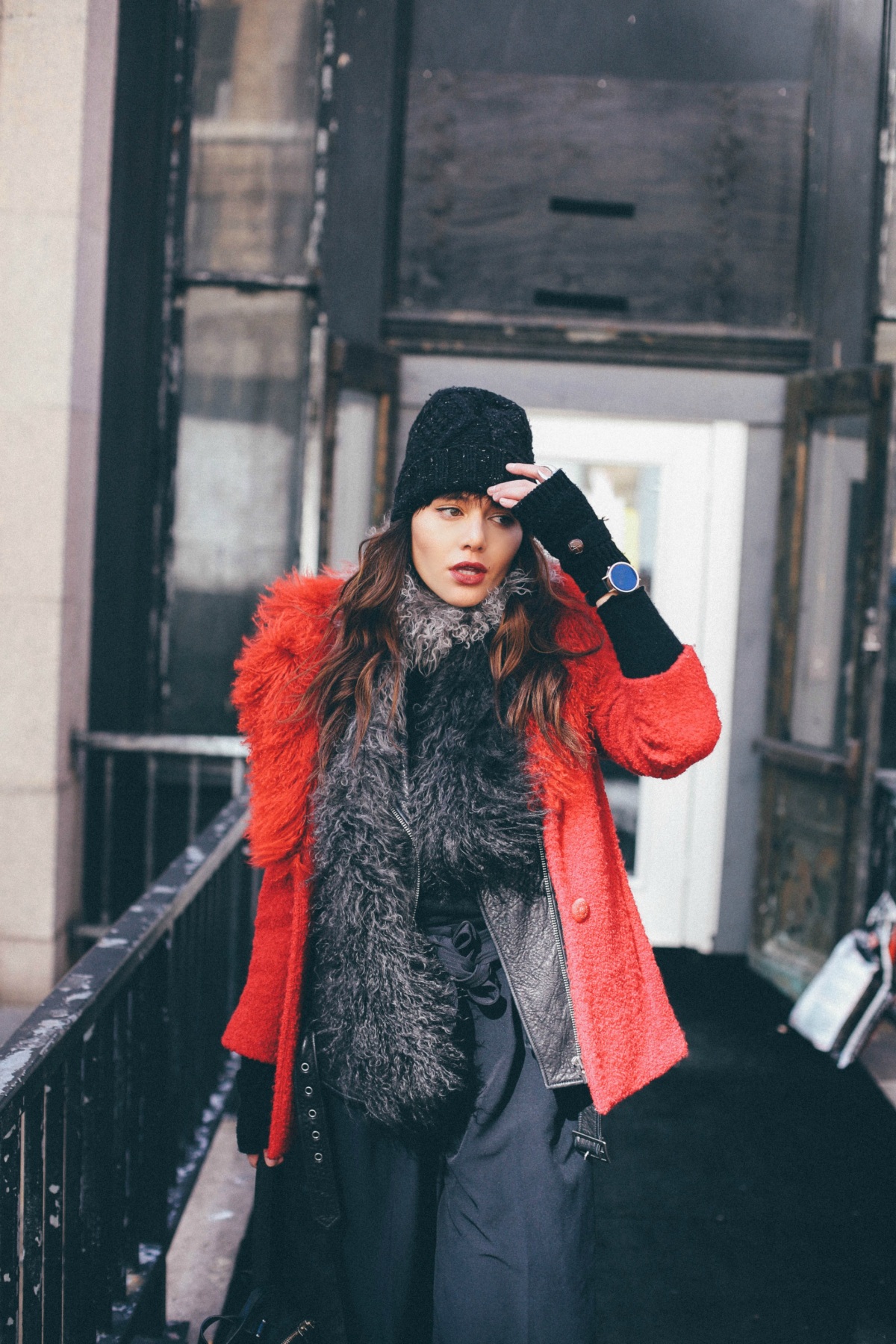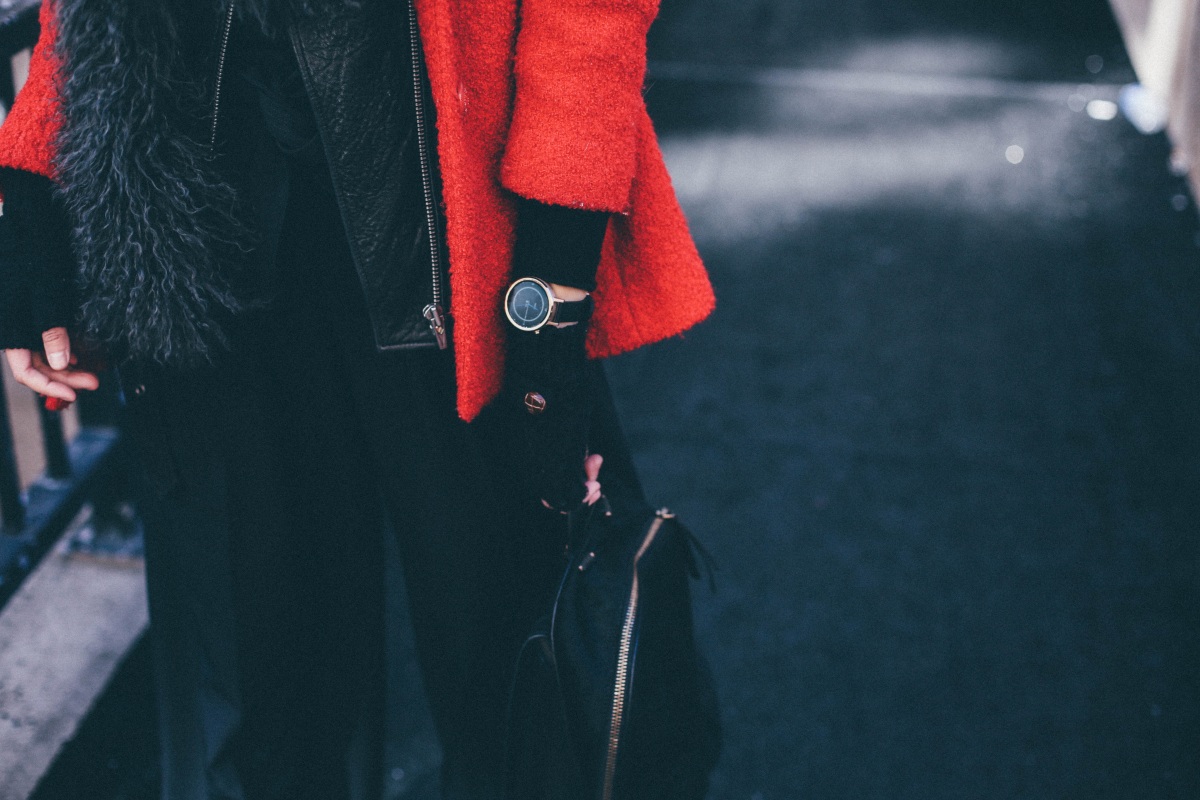 // Android Wear watch, Vintage coat, Charlotte Simone scarf, VEDA vest, Milly pants, Kenneth Cole backpack, La Canadienne boots //
INSTAGRAM @natalieoffduty | FACEBOOK |  follow on BLOGLOVIN | TWITTER | YOUTUBE | PINTEREST | TUMBLR