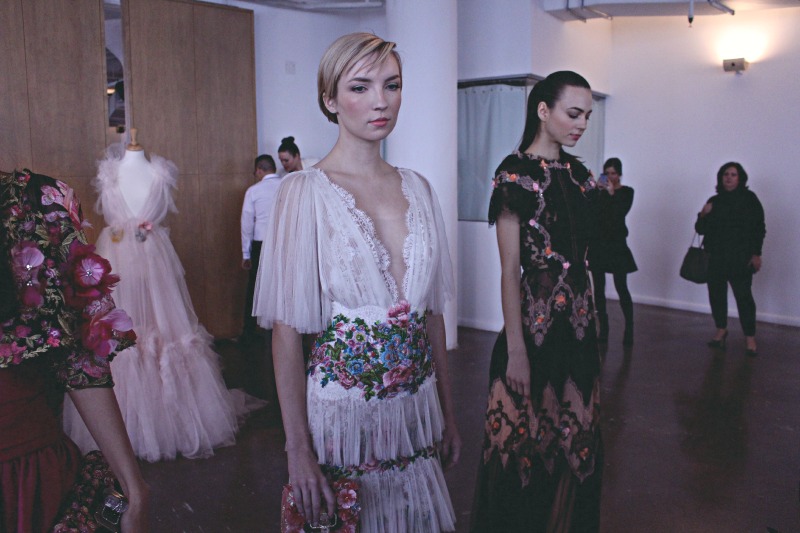 As you know I've been using Canon my entire life. It was so exciting to join the Canon team in stepping behind the lens to shoot their #BRINGIT tour! It was such a magical day…exploring such iconic and beautiful spots around New York City. From Marchesa's wonderous studio, to the Walter Kerr theatre, and ending at beautiful New York Palace hotel…there was so so much to discover, and so much to photograph. Our host, Broadway star and Girls actor, Andrew Rannalls, always keeping us on our toes going from location to location. For the day, I was shooting with the amazing Canon EOS Rebel T5i DSLR. Throughout the day, I changed through 3 different lenses. Starting with EF-S 18-55mm f/3.5-5.6 IS STM lens, moving onto a fixed EF 40mmf/2.8 STM pancake lens, and grabbing some beautiful wide-angle shots from inside the theatre and hotel with the EF 24mm f/1.4L II USM wide-angle lens. The Canon crew helping me quickly change lenses between shots. I'm so excited to continue being a part of #BRINGIT campaign. Their products really do allow me to be extra creative, and empowers me to bring out incredible images wherever I go. With the limitations that come with shooting only with a smartphone, you literally have to BRING your camera. Everywhere I go, I make sure to pack my camera bag. It's the only way for me to capture high quality images instantly, and still be able to send them to my phone to post on my social media. During the tour, I sent my Canon camera images directly to my phone by a wifi card. Easy and simple. Instantly, I was able to share my photos on Instagram! Thanks for everyone who followed me on Wednesday. Take a peek into this inspiring day shot with Canon:
To start the morning in the refreshingly gorgeous Marchesa studio was a dream. Every single dress so intricate, and full of detail. The colors so full of life, really illuminating through my lens. Luxurious. I was able to capture every bead, every fringed hem and every inseam of these couture gowns perfectly with my CanonEOS Rebel T5i.
Lights, camera, action! I grew up with theatre, and I love the performing arts and all the kooky characters. Singing, dancing, I love it all. Everything that comes with being on stage leaves me inspired and craving more! From backstage hair and make-up, to the music, and dramatic lighting. With my Canon wide-angle lens, I was easily able to capture the decadent environment of the entire theatre all in one shot. Every move of the actors on stage, captured so clearly with just a click of a button as I switched back to my EF 40mm STMfixed lens. I loved our performers that day! So full of energy and just so authentic…I couldn't stop photographing them.
The Palace hotel is so grand and luxurious. The stone walls, and Victorian carvings so bold and beautiful. I felt like we were living in an old, classic movie. Even with the dimly lit romantic lights, my Canon helped me capture every detail of the stunning rooms overlooking the courtyard. The stained glass, the gold ceilings. Each having a story behind them. I quickly grabbed these last-minute shots with my wide-angle lens before being seated to a delicious lunch with the team.
We capture SO MUCH in just one day, and I left feeling more inspired and confident when it comes to capturing iconic moments.
See more on the Canon #BringIt campaign here.