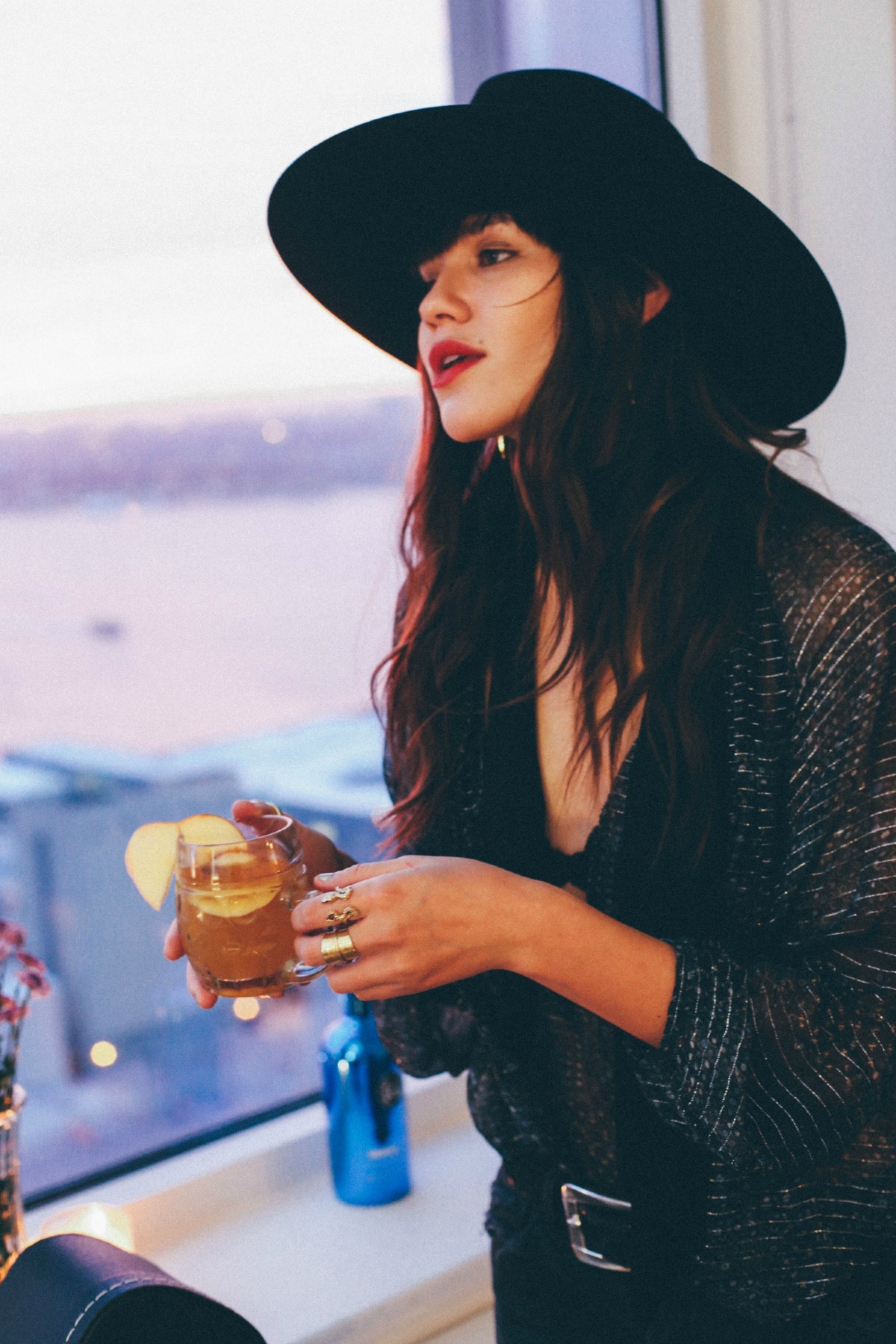 Every party needs a little inspiration and this time,  I'm taking some cues from Absolut's new limited edition Electrik bottle and hosting an intimate gathering with a few friends complete with tunes and good times.
Not only are we obsessed with the beautiful electric blue and silver bottles (so chic), but with Absolut, we can create all of our favorite holiday mixed drinks, and listen to our favorite tunes. My whole life revolves around music. We always just need a few of our favorite records out…I'm talking Jimi Hendrix, Nancy Sinatra, Van Morrison, Fleetwood Mac and Bob Dylan. All artists that inspire my very own music. I love gathering my friends together to go through my collection of records and playing all of our favorites. Dancing and drinking with the city lights as our backdrop. And of course, there will always be someone who brings out my keyboard and guitar. It is times like these, with my friends and having little jam session that we start coming up with melodies and some fun lyrics that I then want to take into the studio. Talking and just laughing with friends is when we come up with some of our favorite phrases that eventually turn into songs. We decided and start to "electrify" our night with a delicious, refreshing Apple Cider Moscow Mule. It's perfect for the holidays. Fill your room with candles, and fresh flowers, and make this easy delicious cocktail before a night of slamming on our guitars at sunset.
What You'll Need Per Glass: 
Absolut Original Vodka (1.5 ounce)
All-Natural Apple Cider (4 oz)
Ginger Ale (or Ginger Beer) (6 oz)
Cinnamon (sprinkled at the end for extra flavor)
Fresh gala apples (slice up, and add at the end!)
My playlist that inspired my own tunes: 
"Hollywood Forever Cemetary Sings" by Father John Misty
"Summer Wine" by Nancy Sinatra
"Coffee" by Sylvan Esso
"Fool in the Rain" Led Zeppelin
"White Room" by Cream
"The Pusher" by Steppenwolf
"I Know There's Gonna be Good Times" by Jamie XX
"The Hills" by The Weeknd
In partnership with Absolut. Enjoy responsibly.