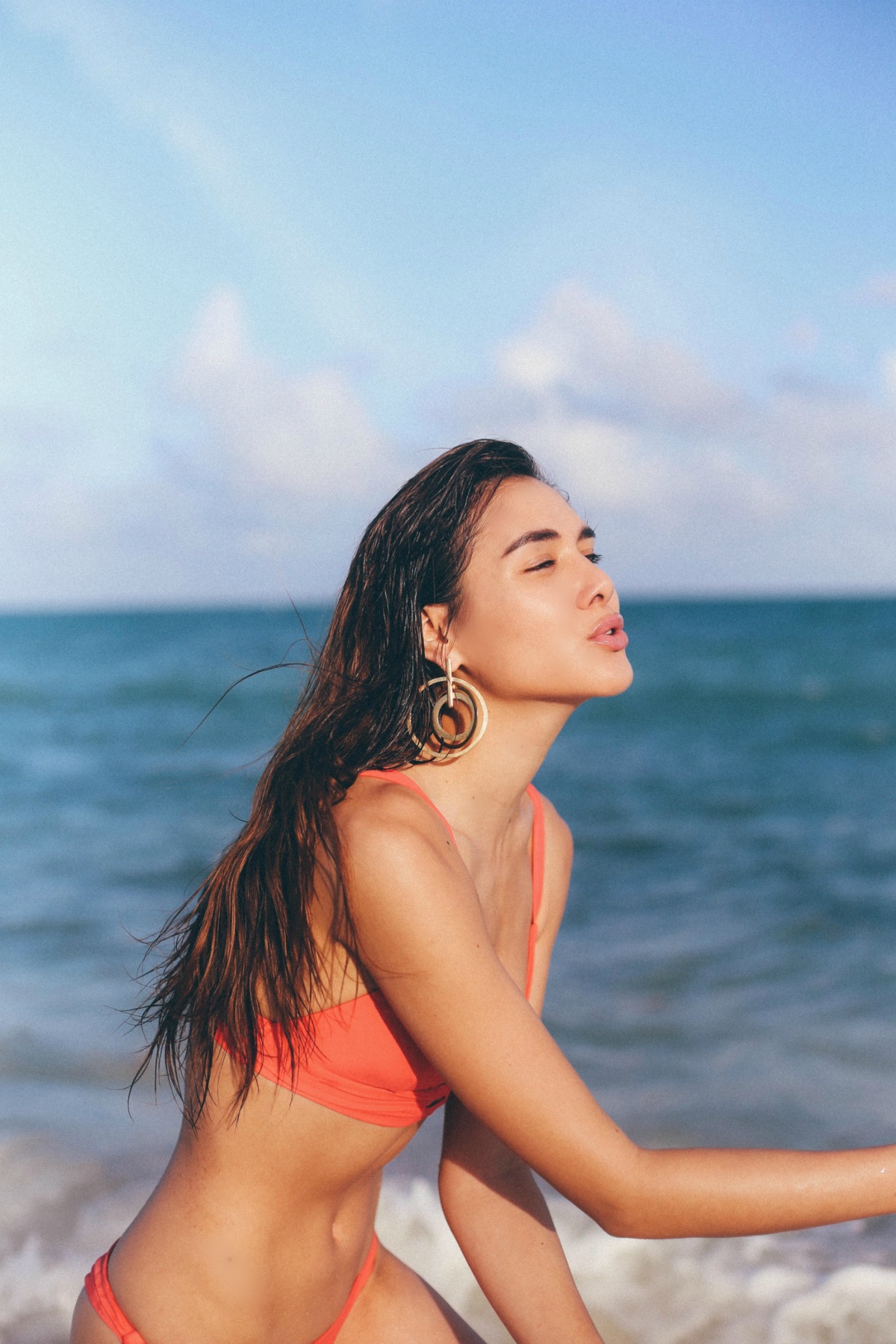 My sister is the one who really instilled this on me: "Always travel with your own hair products." We've had our hair dyed in rainbow colors for campaigns, we're always on set at different photoshoots and events and there's always some hot iron running through our ends, or someone tugging at our scalps. I've been looking for any reason to give my hair a break. Our Tulum girl's trip was the perfect place to start taking really good care of our hair and giving it what it needs, which is natural products. We promised ourselves that with our time frolicking on the beach and under the sun, we won't use a hair dryer. No heat styling. Just amazing, natural products to refresh and hydrate our hair after every dive into the ocean. 
 Tulum is all about being eco-friendly and eco-chic. It inspired us to do the same, but not just on vacation, but every single day, by incorporating luxurious, natural products into our routine. That's when Kérastase's Aura Botanica collection comes into play. These new products are made of handpicked Samoan coconut & Moroccan Argan oils. I love that the products are responsibly sourced to help these exotic communities make most of their natural resources and thrive from them. Coconut Palms are the "tree of life" in Samoa. Kerastase has worked with the NGO Women in Business Development in working with over 200 farmers to supply local women with equipment and knowledge to produce high-grade coconut oil. Bringing this fair trade revenue to the Samoans helps preserve their unique culture and natural resources. I love that everything is done by hand to preserve it's purity. The Moroccan Argan Oil comes from the foothills of the Little Atlas Mountains. Targarine is a project helping Berber women provide for their families by embracing their traditions and preserving the village's natural ecosystem. The oil has high concentrations of Omega 6 and 9, giving my hair softness and shine. Now that you've got the inside scoop, let's go over the products I used:
Aura Botanica Essence d'Éclat: an oil spray I used on both my wet hair and dry hair to refresh and restore it throughout the day. It has  jojoba, coconut, and organ oils with a touch of orange. It also has a subtle scant of rose water. It's super light, without any oily residue. Just 3 sprints on both sides of my hair, and I let it air dry. My hair never felt so soft.
Aura Botanica Concentré Essentiel: It's essential to my ends, which after a day in the ocean can feel a bit dull. I use it just before bed after taking a shower for some intense conditioning overnight. I sometimes use this on my body as well for added moisture. It's that versatile.
Aura Botanica Bain Micellaire: This shampoo is light and airy. It leaves my hair squeaky clean with a shiny touch. 
Aura Botanica Soin Fondamental: This conditioner is super lightweight, but most importantly, is amazing with frizz-control…which makes it fantastic for air drying. 
The story behind these products is inspiring and really gave me a big picture into how we can make most of our world's natural resources. It's time we dedicate ourselves to the sustainable use of materials. Kerastase's pursuit is to obtain the highest possible biodegradability for each formula, and I'm with them.