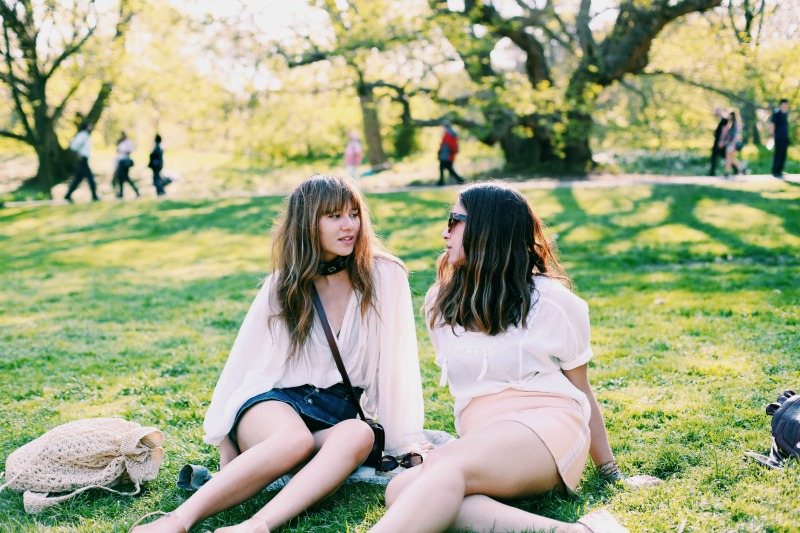 Dating is serious work now isn't it? Actually putting yourself out there may be hardest part. Especially when talking about yourself, what you do, your job, etc. This isn't exactly what you feel like doing every single night of the week . . . with a different guy. And when the guy just doesn't get it or get you, you suddenly want to down your margarita as fast as you can and stumble out into the next taxi. But let's cut to the beginning.
So you are getting ready for the big night. You've got a date and you're freaking out over what you're going to wear, and how you're going to do your hair. You feel like you've mastered what you should look like, but every new date feels like high school again. Is he as cool as he looks on Instagram? Do you think you should look more sophisticated than in your profile pictures? In my opinion, I think the more natural, "I didn't try at all" look is the best way to go. I've used Wella Professionals hair products for ages, and though I love my summer braids, loose buns, and high ponytails, I always go with a consistent look that works. Messy waves. My favorite product to get it is the Wella Professionals Elements Leave In Conditioning Spray. As for what to wear, I always end up blowing up my friends' phones with my outfit choices. It always ends with the tip: "so chic. now just mess your hair up a little." It's completely true. Guys love a girl one way . . . effortless. So just be you!
My friends and I are constantly talking about BOYS. As we're getting ready for one of our girls nights there's always someone in the bathroom screaming:  "Setting someone up with mutual friends is a completely lost art." One is sitting indian style, clutching her phone stating "Should I swipe here…or when I'm in Chelsea? I hear Tribeca has tons of hot Dads." but the most used: "Dude, let's just meet guys tonight." I honestly prefer dating the old fashioned way. Like meeting that certain someone sitting next to you on that spur-of-the-moment flight across country. When the brown eyed cutie slips you his number on the subway. But nope, this only happens in my dreams. My gal pals are all over the online dating scene…on match.com at their office, in cool downtown bars…hoping to find the right match. There's hope ladies. The best thing to do is to love yourself first…then love will find you. No need to pull YOUR gorgeous hair out wondering why this guy doesn't ever ask about what you do…or worrying if he will call the next day. And don't over think it. Dating on a website like match.com can be a lot of fun! Just think of it as a way to just expand your friend group even! And who knows, maybe you'll meet Mr. Right and all you want to do is be together, listen to the same music, and travel the world. Chill out chicas. Live and love, and the rest will follow. Did I almost just quote En Vogue?!
But what's exciting is today Wella Professionals and Match.com are having an Instagram contest so you can show off YOUR date night hair look and win products along the way.
Simply follow @WellaHairUSA and hashtag #LoveisintheHairContest with your date night hair look for your chance to win a Wella swag bag and a salon appointment for you and a friend…
Need some inspiration? Watch this Wella makeover video here: https://youtu.be/S0zplH2QQfM
// Wella Elements collection and Wella LUXEOIL collection //