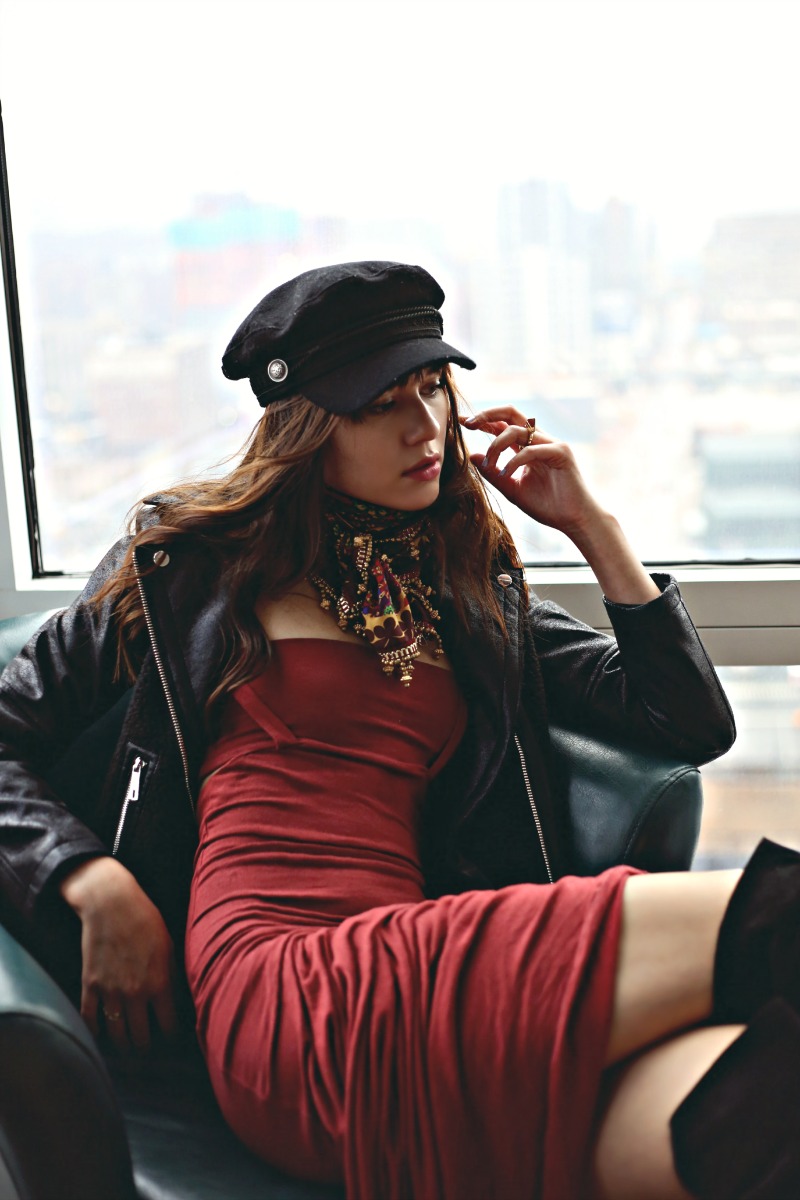 "Kimawashi" is a new term, now in my vocabulary! It's a Japanese word meaning: to wear the same item in different ways. Thanks to Rakuten, I've become a master at kimawashi!
I am constantly re-wearing my staple pieces, but styling them in interesting ways. Rakuten, an online shop with some of my favorite brands and designers, brought this Japanese term to the States! Talk about Genius! Here, I took this Samantha Eng suspender dress from Rakuten, and styled it 3 different ways. It's official: #iamkimawashi.
There is so much you can do with maxi. Here, I gave it an extra retro, Brigette Bardot vibe. Complete with a boxy leather jacket, neck scarf, newsboy cap, and super cool over-the-knee boots. I love that 60's mod look.
// Rakuten dress, Kenneth Cole jacket, H&M hat, Stuart Weitzman boots //
Then, there's layering. During the fall, I love to take a spring-fall transitional piece, like this suspender maxi, and give it a twist. It's super bohemian, yet classic and chic. I layered a lightweight chiffon blouse underneath, and paired it with my favorite chunky sergeant boots. Just back from the farmer's market, I scored some beautiful blooms for the apartment.
// Rakuten dress, Lucky Brand blouse, Coach boots //
The cut-outs on this sexy maxi are a statement on it's own. No layering needed. I simply threw on a sparkling kimono over my shoulders, complete with my new custom hat, and black boots. It's a bit rock n' roll, and a bit circus, which I love whenever I add some sparkle to a look.
// Rakuten dress, 1. State kimono, Nick Fouquet custom hat, Reiss boots //
Be sure to check out their Super Fashion Week sale going on now!