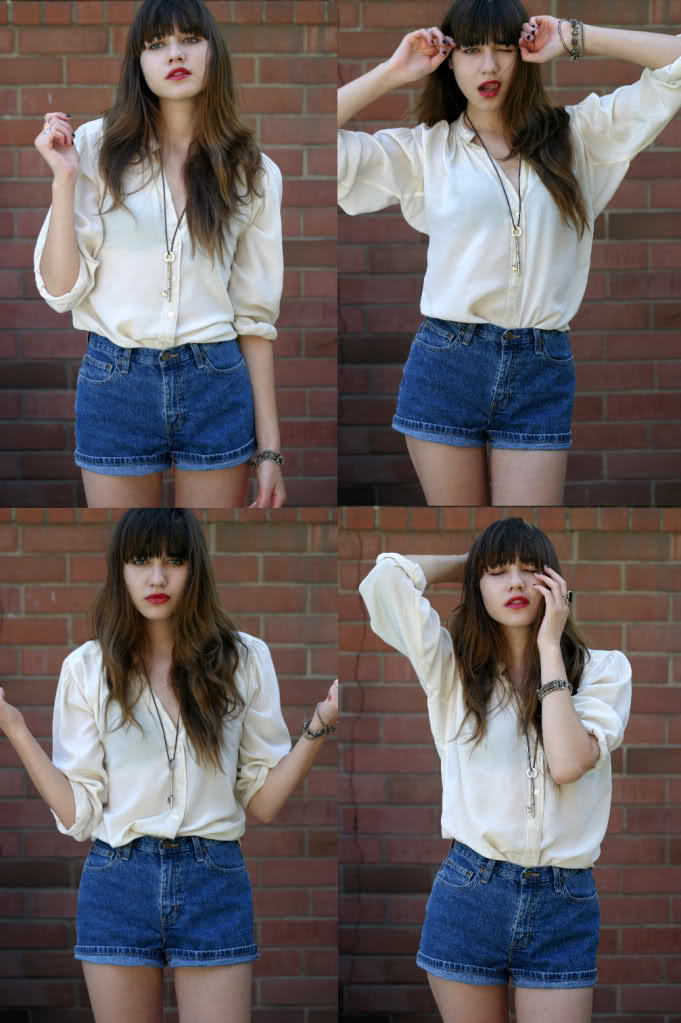 I have been hitting up the Goodwill's around LA recently and just happen to score amazing stuff everytime. I ran into this vintage Yves Saint Laurent blouse in Santa Monica and these high-waisted shorts in the SF Valley. Together, they make up the ultimate summer ensemble that allows me to move freely anywhere, anytime. Most of my jewelry is vintage, but I like to mix in my rings from Forever 21 and Obey. But, I'm constantly on the look out for new designer pieces. Hope you enjoy these funky photos!
Overall, my weekend was pretty chill. I went on a really long 5 mile hike with one of my best friends (whom I'm hoping to photograph for my blog!). I did get a nice light tan and some really sore muscles! But it feels so good to get out there in the mountains and just sweat all your toxins out! My friends and I also went to Ventura Beach to read and relax. Right now, I'm reading Lolita which I totally recommend. I've just been releasing a ton of energy which feels great and refreshing. That's what I love about summer, the endless opportunities to enjoy yourself!
I try to use some of my time browsing the latest lookbooks of all my favorite designers as well. Here, I have brand spankin new images of Z Berg of The Like, and model Hailey Gates for Wren! Wren's soft fabrics and darling prints always keep me coming back for more. The cuts and shapes are my favorite. Girl-y with a little masculinity thrown in. It's no wonder girls like Z Berg and Hailey Gates are the faces for their latest collection. It girls + Wren make the perfect combination! Check out some of my favorite looks from the collection!