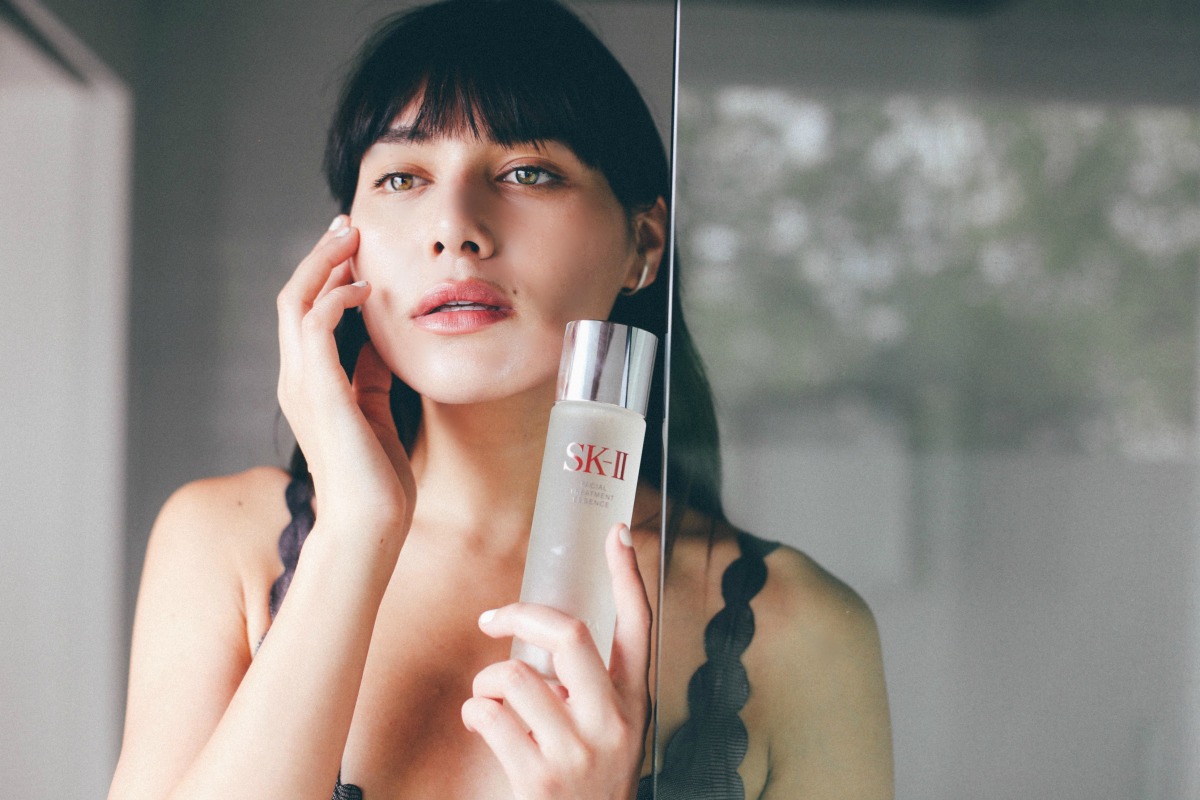 I spend every summer by the sea. Whether it be in Montauk, the Caribbean, or Maui. With all of my sunny summer travels, I have added in a little extra boost every morning and night with SK-II's Facial Essence Treatment to renew my skin. My skin is always so much better whenever I wear no makeup. It's in the summer I really let my skin breathe, and would really like to show its natural dew. SK-II's Facial Essence Treatment's main ingredient is Pitera: a clear liquid rich in vitamins, amino acids, minerals and organic acids. I have read so much about this miracle ingredient that I decided I needed to try it and take the #OneBottleAwayFrom journey. My personal skin goals? An even skin tone with a firm, smooth texture. The SK-II Facial Essence Treatment actually exfoliates, minimizes pores, and helps to reduce and prevent the appearance of wrinkles. Even though my skin doesn't have much show many signs of aging yet, I'm dedicating every single day in preventing my skin from any damage. This summer, my goal is to go #OneBottleAwayFrom being makeup-free which is why I decided to embark on this #OneBottleAwayFrom journey all summer long. That means for me, minimizing the size of my pores and really evening my skin tone and diminishing any acne "spots" from those teenage years. The ultimate goal is to feel confident enough to go absolutely foundation free this summer. It's pretty amazing how this bottle has transformed my skin from the spring time until now, and helped me reach this goal.
I'm half Chinese and half Hispanic, so I'm really lucky that my my skin naturally feels "thick" and firm. I'm super pale in the winters, and can get a really brown tan with just one afternoon in the sun. I travel every other week and I'm exposed to sooo much when I'm on the plane and living out of a suitcase. My skin really takes a beating. It's necessary that everyday I start my mornings with a splash of the SK-II Facial Treatment Essence and another splash right before applying my moisturizer at night. I like to use the essence on my palms at night, and on a cotton-pad in the early mornings. The amazing thing with SK-II is that you can apply the essence anyway to clean, dry skin – both are correct, so it's whatever your preference is. A cotton pad paired with the treatment is amazing for when I'm traveling because sometimes when I'm applying it on a red-eye flight, it's a lot cleaner and a lot less messy. I began my journey early-June until now. Immediately I have seen a major reduce in puffiness under my eyes, smaller pores in my T-Zone, and most importantly, clear, acne-free skin. You know how the sweat and heat from summer can totally lead to clogged pores? Using this will totally help prevent that. I realized during my journey challenge that my skin was in need of something calming and restorative. SK-II Facial Treatment does just that…giving my skin a balance it needs in my hectic schedule every single day.
Here you can see I used started my treatment by the sea in Montauk and through all of my travels, all the way to the islands of Hawaii. This, along with a couple of swims in the ocean and being in a really relaxed state of mind, my skin is feeling super hydrated and smooth. Our skin is our largest organ. When it looks and feels healthy, I feel confident. Now, I can say I am confident to go make-up free this summer.
This post is sponsored by SK-II.