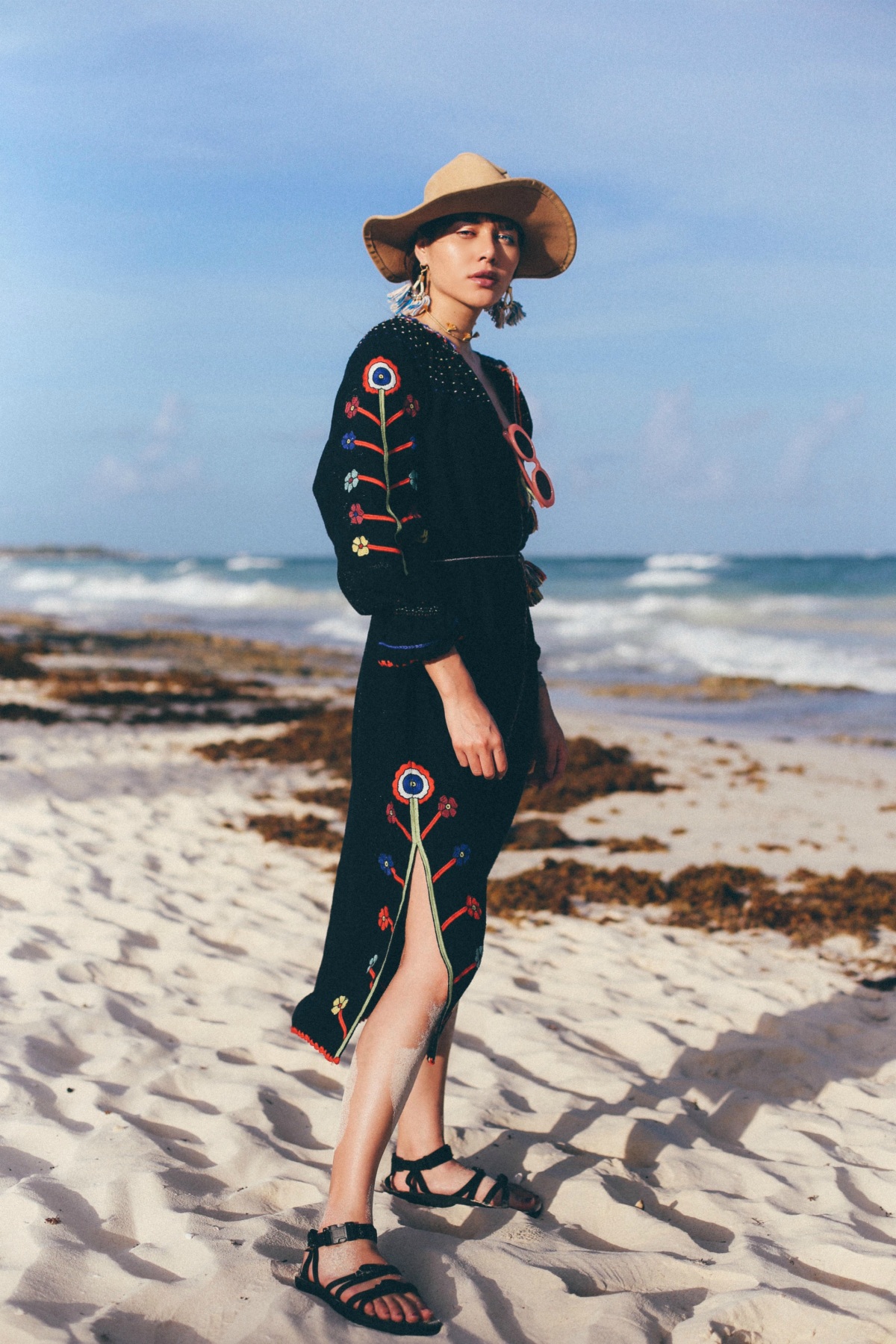 I've only heard amazing things of Tulum's dreamy, white sandy beaches and eco-chic resorts. It was just what this New Yorker needed after what feels like a long, never-ending winter. Mexico's hot sun, mouth-watering salsa, and pops of cerveza were calling my name! Plus, I've been dying to brush up on my Spanish.  Every year, my sister Dylana and I plan a girls trip to bring together some of our favorite babes from around the world. We love anywhere with a bit of culture, lots of sun, and of course, somewhere picture perfect. Tulum was the place. We hopped on a plane straight for Cancun, before making the 2 hour drive to our off-the-beaten path beach. For trips like these, I'm always on my feet. I count on Teva to keep me covered and ready for just about anything. I packed 5 pairs. You know a girl needs her options! I love how they go with every single look, whether it be a bikini or a perfect sun dress. My Teva obsession began years ago…on the campgrounds at hot, hot Bonnaroo in Manchester, Tennessee. Which then lead us out to the jungles and hot springs of beautiful Costa Rica. And of course, we ended up even taking  our Teva sandals back to NYC for fashion week, with a play on sock's and sandal's, one of my favorite trends. Let's just say, no crazy adventure with my girls ever seems complete without them now.
For our first night in Tulum, we decided to "glamp." Glamping Hub really got me into it. It allowed us to really feel the heartbeat of the town. We slept in beautiful huts under the stars at Joy Tulum. We caught up on life by our pool, giggling like little girls late into the night (it's been a year since we've all seen each other), and woke to the sound of the birds chirping. I'm so excited to tell you a few spots we've visited during our stay. A friend recommended we walk to Burrito Amor for breakfast, a hip joint just by our campground.The amazing thing about this spot, and Mexico in general, is their love for colorful fruit and delicious spices and chilis. A breakfast burrito was exactly what I was craving after a long day of traveling. With our bellies full, we grabbed our camera equipment and set off for the cenotes…beautiful warm, bodies of water surrounded by trees and exotic birds. They're fantastic places to swim. They're so calm, you can float for hours. I never took my Teva sandals off, even when jumping off the highest ledge into the cenote. I always swim in them. They protect my feet and somehow make me feel safe.
Our next few days were in front and behind our cameras. We were ready for early mornings shootings on the water, and spent our next few nights in a beautiful apartment by the long stretch of white sandy beach. Lazy afternoons were spent at The Beach Hotel for lunch, a luxurious hotel with a super secluded and remote beach just steps from the bar. You can wander just far enough that not even a soul was in sight. Nights were spent at the Papaya Playa Project, a stunning seaside resort with loud jams to dance to, surrounded by the dark crushing waves and acres of  preserved lush and trees. This is a super romantic date night spot, that's also a ton of fun.
With amazing food and culture, comes a very diverse crowd. People from all over the world have settled in Tulum to bring vibrancy and diversity to the city. Here are a few more of my lunch and dinner recommendations. Dinner at Hartwood is a total must. Go for the beet salad, plantains, and white fish. So fresh and beautifully presented. This chic spot was started by a New Yorker, so expect a super cool and unique menu every single night. We found another more casual spot, Tunich Tulum, that's great for lunch. Also started from an expat from Australia, it's spin on a classic Mexican dish is both comforting and inspiring. But even with all of these amazing, innovative food choices, sometimes all we really wanted to was an authentic Mexican classic plate of rice, beans, and a few good tacos. It's the type of food I grew up eating, and I was craving it hard. That, of course, you can find anywhere off the side roads in Playa del Carmen…the town where the locals live by Tulum. When our driver picked us up at the airport, all I wanted were tacos. He took us to a tiny hole-in-the-wall on the side of the road. Simple pollo tacos with cilantro and onions, and served with delicious salsa in tiny plastic bags. Classic, and easy.
From Tulum, we spent a few nights in Mayakoba, just an hour away to stay at the stunning Fairmont Mayakoba resort. I traded in my sandy leather hat and dusty overall shorts for bold red dresses and luxurious printed kaftans. My Teva sandals love to be styled every which way. Up or down. It's amazing having a beach shoe to dance in and still hike in the next morning. Mayakoba has absolutely stunning beaches as well. It's the perfect place to really decompress at the end of a long, adventure trip with a few much-needed moments by the pool. I'm still missing the hustle and bustle of the people and spirit in Tulum. Until next time will our sandy sandals wait.
Lunch at The Beach Hotel, Tulum
Breakfast at Burrito Amor.