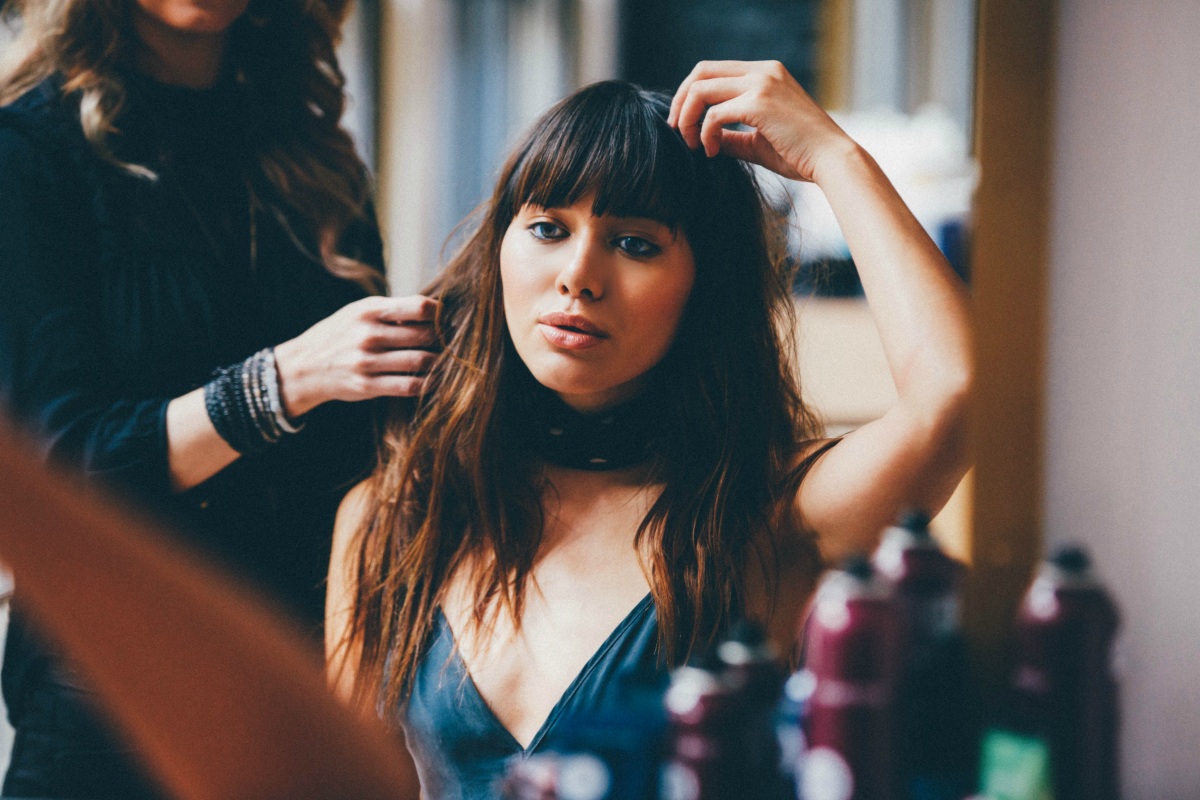 As most of you know, I just went through an exciting new hair change. And it's called hair strobing: the use of color to highlight your best features. I am so excited to share my new Matrix "Rock n' Strobe look. They're really the only ones out there who have perfected the art of hair strobing and it's honestly such a refreshing change. With summer, I've been craving color and something unique. I knew Matrix would be able to make my vision come to life. They have every color of the rainbow that can be mixed to perfection. Color that lasts a long time, and a line of products that are delicate on my fine hair.
Most of my career, I've let my hair be super natural. With modeling, I've become known for my blunt bangs and long dark brown hair. But being a blank canvas can sometimes get boring. My personality is colorful and quirky. I even wear a ton of color! My style is rebellious, daring, and out there. I worked with my Matrix stylist, Danielle Keasling, to come up with a look that was vibrant and extra bold, but still super wearable and went with my "always on the go, ready for anything" lifestyle. But seriously, I always like an easy look that can be styled any day of the week, on any set that I'm working on, or any travel destination. A look that went with just any look or mood I was in for the day.
My original intention was for purple because it's always looked so glamour in brown hair. Eventually we threw in the idea of blues and greens, and fading out into a deep purple. But it isn't any ombré. We went with bold bright hair strobing on pieces that frame my jaw, cheekbones, and heart-shaped face. Leaving my ends natural and letting the blues, greens, and purple pop from underneath when the wind blows, when I give myself a little curl, or have it up in my signature messy bun. It's my own take on mermaid hair!
I couldn't be happier with the results. It's fun to catch people by surprise with a pop of the blue peeking behind my ears, or inside my braid. It makes me want to wear my hair up and rock a killer pair of earrings. The process of getting a new look in the salon is exciting, especially when you've got your girl tribe doing the exact same thing. Sometimes you really just need a change. Even it's just a temporary color to go with the mood you're in that month. Mine is for about 20 washes, but with good care and conditioning, my color has been lasting a bit longer. 
Matrix, you've brightened me up and I love how it shows a bit of my wild personality. Now I am addicted. What colors to go with next?!
Thank you to my Matrix family! Get the look with Matrix Rock 'N' Strobe!
images courtesy of Matrix