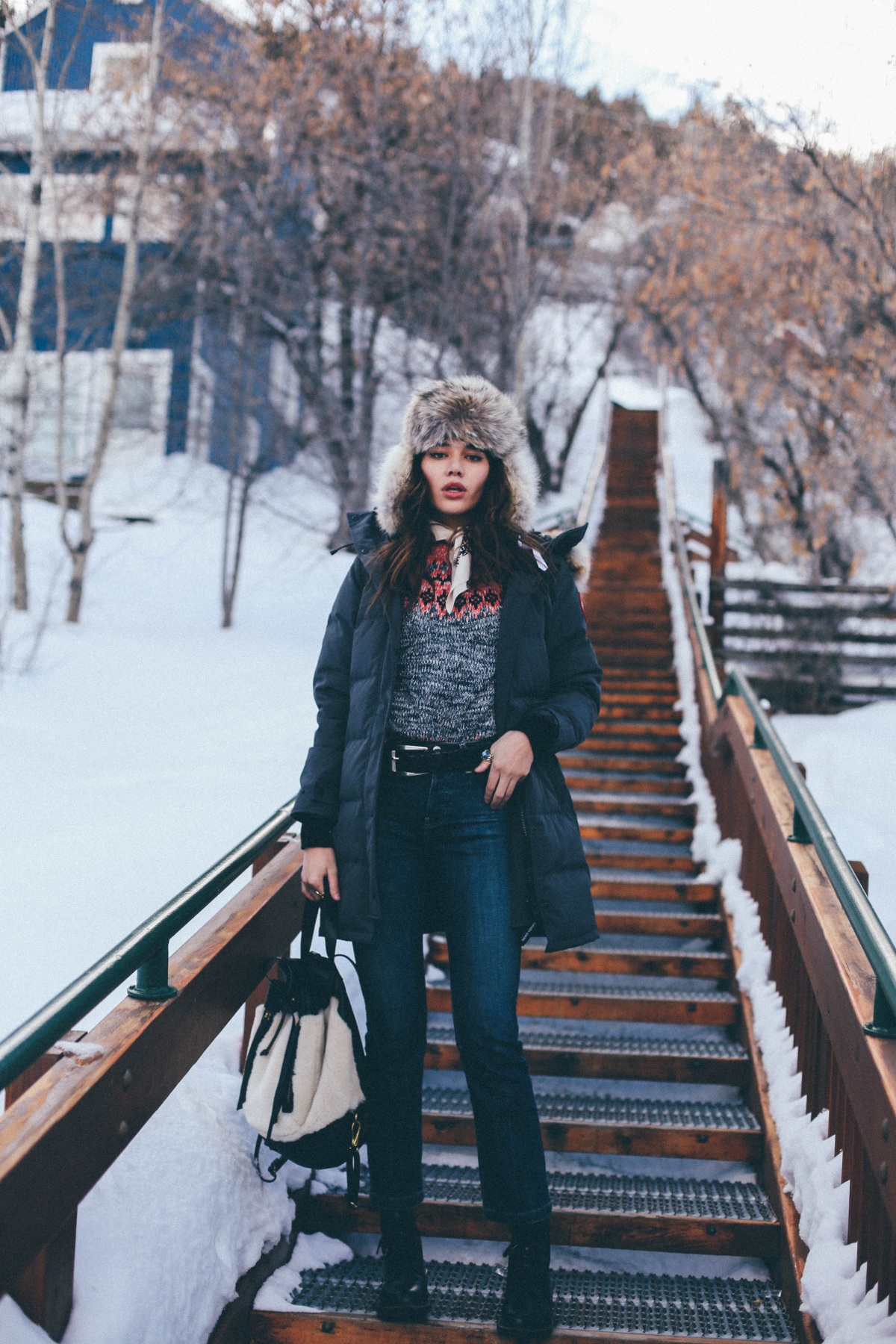 I just attended my first Sundance Film Festival, and I think I may be addicted. There is a definite possibility you will find me roaming the streets of Park City, Utah again next year. Canada Goose was one of the main sponsors for Sundance this year, and it has been so exciting to travel with their team to cover the films and snuggle in their amazing coats. Canada Goose is iconic in the film industry. Their delicious and super warm jackets are a life saver on set for film shoots all around the world. Directors, cinematographers, and producers swear by their coats for a long day on set. I've been a fan for as long as I can remember…for as long as I could snowboard! I couldn't wait to snuggle inside mine the moment we landed in Salt Lake City. Fresh snow, clear blue skies, and colorful little homes perfectly perched on the side of the mountains. Talk about a true winter wonderland. Everything was white and glittering off the sun. I couldn't wait to sit by the fire with a good hot cup of cocoa. Such a precious moment!
But let's get back to this amazing down parka. I cannot stress how much I genuinely adore the Canada Goose coat. It's like walking in a sleeping bag. It keeps you incredibly warm in the even most severe winter climates. If any of you saw a large crew walking down Main Street wearing the same parka with our hoods up, pulled tightly around faces, it must have been us. Just me and my adorable geese (that's what I called our crew members all weekend long!) In between screenings, we were either downing hot toddies at the local bar, or at the Canada Goose igloo installation where they had their very own film, "OUT THERE" playing on repeat. We even had a morning to ourselves for paddle board yoga at The Homestead Crater, filled with natural hot water. It was one of the most fun, and relaxing things I've experienced. I definitely made a few screams as I fell face down in Warrior One into the water.
But anyways, you can now officially call me a complete sucker for the Canada Goose. Compared to any winter coat I own, this is by far the most yummy. And it's actually super chic. I had a bit of fun dressing up a very practical, functional winter coat. I went for the Shelbourne parka in Graphite. Dresses, tights, lace-up boots. Fair Isle sweaters and jeans. Neck scarves! Count on me to get creative and a little weird. The beautiful thing about Sundance Film Festival is that you don't have to try hard. It's totally okay to sport your favorite blue jeans, snow boots, and cardigan to the Waldrof bar. Even if you do happen to plop down for a glass of wine next to STING (yes, he was in town for a private performance). So truth: we definitely had some great celebrity sightings on the dance floor, and at the screenings.
Now, let me walk you through a few of my favorite films from Sundance Film Festival 2016!
"Norman Lear: Just Another Version of You": This may be one of my favorites from the weekend. This documentary covered Norman Lear's career as one of the leaders in national television. A producer, writer, and activist, he is now 93 years old, and still savors every single day, and has this youthful glow and energy about him. He truly enjoys life! He is who made television real. He made us laugh. He spoke through his television characters in the 60's and 70's on shows like All in the Family, Maude, The Jeffersons, and Archie Bunker's place. Through his screen writing, he used his characters to portray versions of ourselves. Acting like us, saying what we say in our everyday lives…right there in our living rooms while watching the TV. Bringing up social issues, poking fun at it, but most of all, bringing togetherness to different races and cultures in a time when equality was still new. He brought a sense of reality to comedy and TV, that shaped what television is now. This documentary was one of the most inspiring films I've ever seen. Norman Lear calls himself and his characters "just another version of you." And it is true. We are really just versions of one another. At the end of the day, we share the same feelings, and thoughts. And sometimes you just have to laugh at everything.
Morris from America: This is a film I know my friends and I could enjoy together. Because it makes you laugh, and it makes you cry. It's about an African American father and son living in a small town in Germany. It's a coming of age story about love, family, and music. It definitely had one of the coolest soundtracks at Sundance. Lots of rap and R&B, my favorite. As Morris, the 13 year old son discovers love with a 15 year old German girl, he finds himself and his voice in being with her in lust, and then, losing her. This movie made me tear up so many times, and made me think of myself as a super young teen growing up, discovering what love is, what lust is…having that crush. Then it felt real, and today it still feels real.
Manchester by the Sea: This film had a star-studded cast. Produced by Matt Damon, starring Casey Affleck. I have to say it may be one of his best performances yet. Talk about a very intense 2 and a half hour long movie. You're kind of on your toes the whole time, your heart is just waiting to break throughout the movie. You sort of feel cold while watching it. Based in Boston, the story follows Lee, a custodian back to his past…where he lost his children in a house fire. Since then, he has left town, only to now find his sick brother has died and he is now the guardian to his brother's teenage son, forced to move back into Manchester, the place he once never wanted to return. Lee's a man who has suffered a major loss, a major tragedy, and is taking it day by day, finding the strength to keep going. This movie doesn't have the typical icing on the cake, happy ending. But rather, leaves him the way he was, just a lot more full on the inside. And a lot more at peace. You see how someone evolves emotionally with time. Time helps to heal. But in some cases, you can never fully heal. You have to live with a bit of a broken heart. Life really is all about loss. You just figure out how to make the most of every single day. This film is a must-see. Casey Affleck is a total babe, by the way.
Michael Jackson's Journey from Motown to Off the Wall: Spike Lee did a documentary on Michael Jackson's journey with the album, Bad…and it's exciting to now get a glimpse of Michael Jackson's journey as a child, into adulthood. This documentary is all about Michael's music, and I'm happy that it's focus didn't go anything beyond that. Michael Jackson has always been one of my main inspirations. In singing, in dancing, in writing. He seemed almost unreal. His talent was such a gift that really should be appreciated. His music will always live on. His soul will never die. This documentary is so inspiring. It reveals a hand written note by Michael Jackson just before Off the Wall was released. It stated how he will take will what is left of art, and perfect it, taking it to the absolute next level. Doing what no one has ever done before. And he did just that. His music changed the world. Every song a reason to dance. His voice one of the purest I have ever heard! For my Dad, I know that Michael Jackson's albums were a part of his whole life. From ABC to Man in the Mirror. I can't wait for my kids to listen to his music, and learn to moonwalk like I did off Youtube! Now, I am listening to "She's Out of my Life" from the Off the Wall album. To this day, we still don't know who he cried for during that recording. It's one of the most heartfelt, purest songs about losing someone you once loved. Making the mistake and walking away. Figuring what will you do now that the person you love is gone for good. Followed by "Don't Stop Till you Get Enough." That song makes me feel unstoppable. It makes me want to go OOOOOOH!!! and walk down the crazy NYC streets with my headphones on. This film allows you to rediscover those albums, dissect every lyric and beat, and be inspired by them. Inspired by his motivation for life and art.
// Canada Goose parka and trapper hat, Cardigan NYC sweater, AG jeans, Dr. Martens boots , Kooba shearling backpack //
// Canada Goose parka, Amanda Uprichard dress, Frye boots //