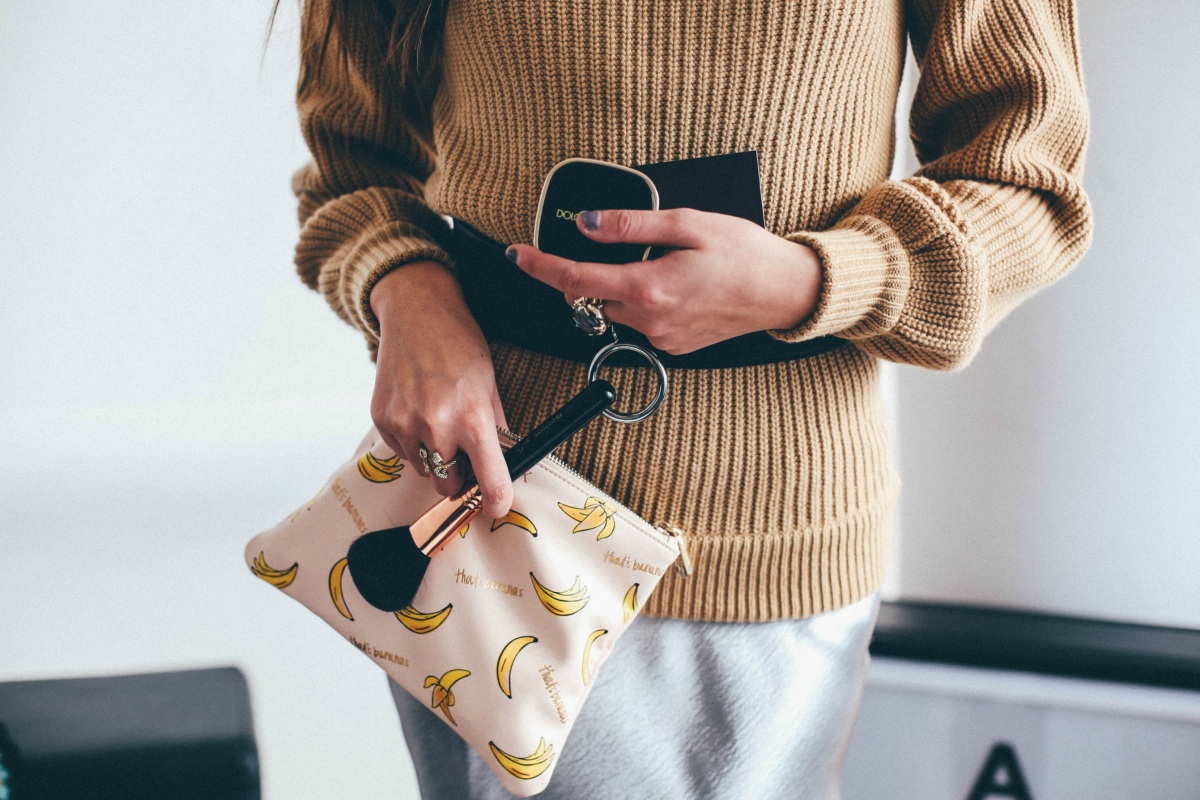 Almost about every day I get a new product to review. There is always a box lying around my office screaming "TRY ME. I LOOK PRETTY IN MY PACKAGE AND I SMELL GOOD. I'VE GOT AN EXPIRATION DATE, SO USE ME NOW." Trust me, beauty products won't last a lifetime. I try to test them out early on, then pass on to friends whatever can't be used. I make new, exciting products a daily part of my beauty routine, test them out, and give you the low down. Here's a little beauty edit of new products and brands I've come to really love. I am always excited to open a beautiful compact or eye palette and realize the product itself is just as amazing as it's gorgeous packaging. New beauty digs to me is like candy. Makeup and beauty can totally feel overwhelming. So let's talk about some of the latest beauty digs out now. When I start loving something, I immediately get my friends using it…and of course, it then makes it to the blog. With winter, I've been focusing on creating that perfect bronzed complexion. You know I'm that easy "10 minutes to get ready" kind of girl. I steer clear of fussy things. I want something I can purchase over and over again…and in timeless, practical colors. As for my skin, it's super sensitive, so next to lathering on oils (remember how much I love Cover FX's latest?) Well, now is the time of year to exfoliate the s**t out of your face. Now come beat the winter blues with me.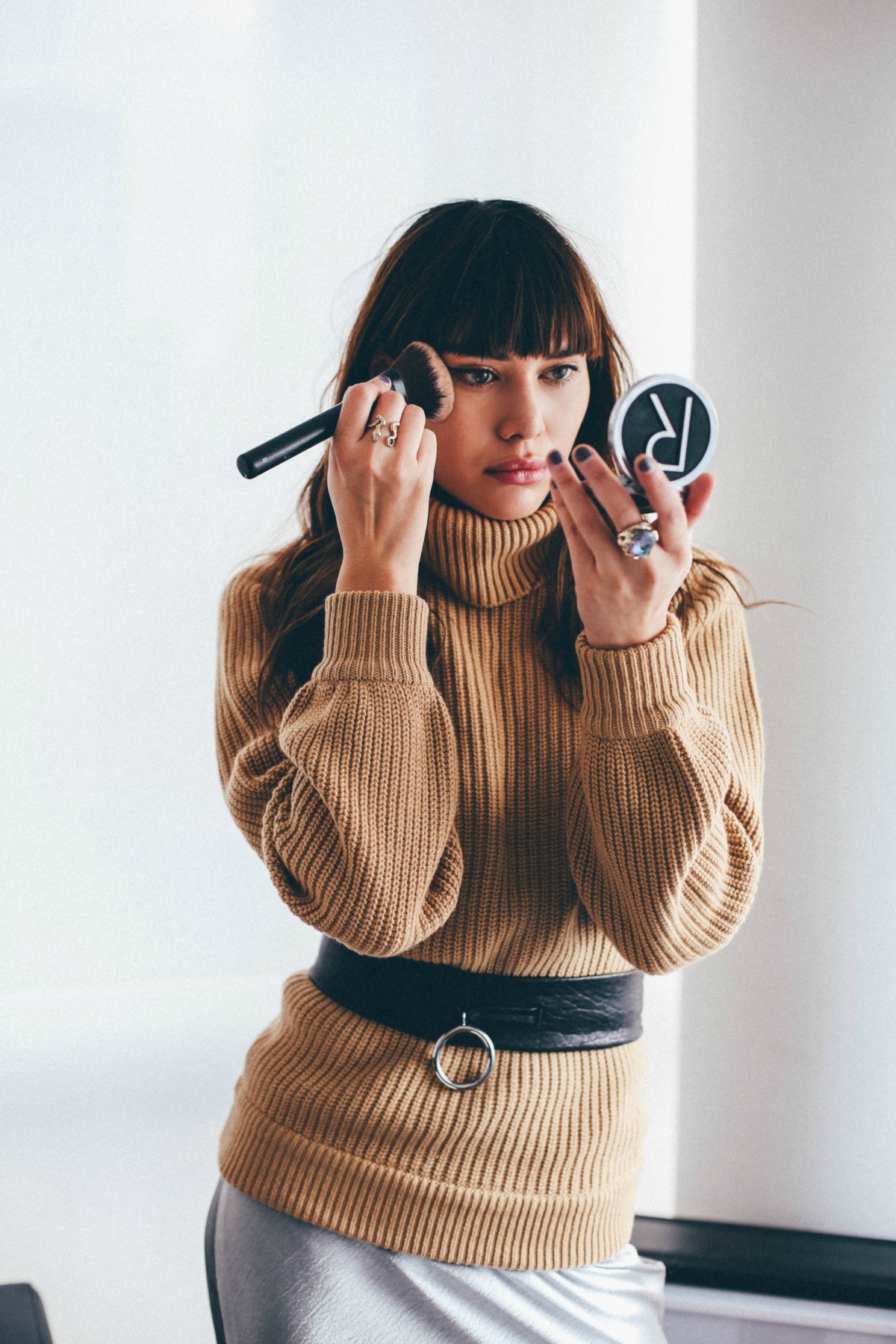 –Rodial: Pure luxury. I am such a fan of the "Instaglam Compact Deluxe Translucent HD Powder." I prefer a translucent, clear powder because it easily leaves my skin smooth, grease free, and super natural. Their "Skin Tint" is also great, and sort of gives you a tiny bit of a tan depending on the shade you choose.
–First Aid Beauty: This past summer, I had this tiny patch of eczema on my face from wearing sunglasses in the hot sun while traveling. This dry patch of skin came and went…but I came to realize the First Aid Beauty "Ultra Repair Cream" specified in eczema. It's so gentle, it completely made it go away. Such a miracle cream that's great to travel with. For a little extra pampering, throw in the "Facial Radiance Pads."
–TULA: Obsessed with this new skincare line. I think the Tula exfoliating face mask is GENIUS. It's blue which I already love. And it glides on extra smooth, easy to wash off, and isn't at all messy. It's a total girl's slumber party / tv night mask that just works wonders.
–SK-II: Primers and serums are super important. They're like little drops of medicine that you put on your face before lathering on the other necessary layers for your face! Everything SK-II is just amazing, but I recommend trying the "Brightening Specialist" the morning after a hardcore night on the dance floor.
–Kiehls: I'm obsessed with anything that has to do with the scent of eucalyptus. Maybe that's why I find any excuse to go to my gym's steam room. I can't get enough of the smell! The Kiehls "Eucalyptus Lip Relief" is what I like to slather on before bed. It's so refreshing and yummy. It's a must-have.
–M-61: I tested out their travel products on my last trip to Seoul, and I must say, it left my skin super clear even after 16 hours on the plane. I indeed had jet lagged, tired skin. Now that I'm back in NYC and back on set in the chair, I allow the makeup artists to usually use all of their own brushes, their fingers, their mascara wands. I trust the professionals I work with not to poke my eyes out and always keep me germ free (I've been lucky!) But I always prefer to come home and wash my own makeup off before I allow any more chemicals enter my pores and upset my sensitive skin. They're always like "You really want to go home with all of your makeup on?!" Even with liquid lined raccoon eyes, "yes," because I've got the M-61 makeup remover that removes it all with just one wipe. No red, swollen eyes at all.
Now for the fun stuff. Inside my makeup bag! This Sonix banana pouch is a life saver. It holds everything. I'm always that careful control freak, and so wherever I go, I have to be prepared. Soooo, I always have at hand one of everything. Maybe even that plum lipstick. Or red lipstick. Because you never know. Maybe you'll need that red lip for that last minute meeting with your favorite casting director, or a plum lip for that hot date off the L train. Let's say you won't even find me without my toothpaste and toothbrush. I'm a freak and leave the house as if I'm packed for a week's adventure out in the desert. You NEVER KNOW.
-Dolce & Gabbana bronzing powder: CONTOUR TO THE MAX. This bronzer powder is matte and amazing for lining under your cheekbones.
-L'OREAL Lumi Cushion foundation: This foundation comes in the form of a sponge in a compact. It's really easy to use. You dab it on all over your face and it leaves it looking super glowy, with great coverage.
-Urban Decay NAKED Skin: I love everything and anything Urban Decay NAKED. The shades are natural, but immediately give you that summer glow. MUST-HAVE item right here!
-Stila concealer: Amazing coverage that easily blends in with the rest of my makeup. No creases for sure.
-Marc Jacobs "velvet noir" mascara: VA-VA-VOOM completely. Bat your eyes at any one of your lovers and they'll just die. No doubt.
-Burberry liquid eyeliner: SO AMAZING. It doesn't dry out, and glides on really well. Also stock up on the Burberry eyebrow pencil (it comes with a brush on the other end to give you those Brooke Shields power brows).
–VASELINE: Can't live without it. I use it on my lips, under my eyes, on my brows…on my….elbows?! WHEREVER, YOU NAME IT. IT WORKS. And how cute is it that you can customize?!
-Tom Ford eyeshadow palette: Super neutral and warm tones that work with any skin tone. Whether you're super darn pale in the winter, or baked brown on the island of Ibiza. Take it anywhere.
// Vintage sweater, VEDA belt, BB Dakota skirt, Kendra Scott stone ring, Ouigal heels //
INSTAGRAM @natalieoffduty | FACEBOOK |  follow on BLOGLOVIN | TWITTER | YOUTUBE | PINTEREST | TUMBLR