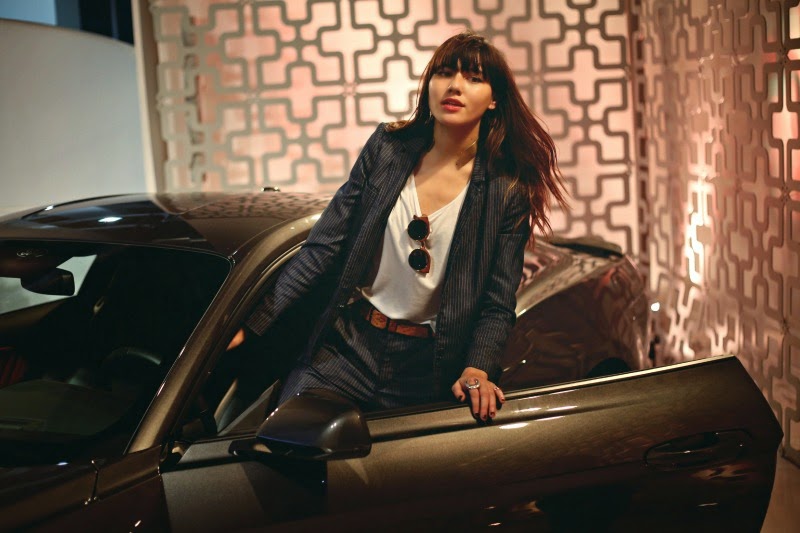 It's so exciting getting to celebrate the launch of
ICON50
in honor of the 50 year anniversary of the
FORD Mustang
! Every time I think of the Mustang, I think of my Dad in the 70's, blasting "Mustang Sally" with the top down, and I think of those endless roadtrips with friends, cruising up and down the coast of California. My hometown.
I got a chance to take a peek of the new 2015 Mustang at the launch of ICON50, and it is absolutely gorgeous. I couldn't wait to get in it! Put the pedal to the metal. It feels extra luxurious, yet still has the down-to-earth, COOL vibe I feel when I think of the classic Mustang.

This year, Ford is celebrating Mustang's influence on POP CULTURE through ICON50. – from being in the movies, to making its way into our playlists. The campaign will inspire America's way of adventuring and unite the all-new pony car with cultural experts from Hard Rock Hotels and Casinos, Zagat, ESPN The Magazine and Mashable to discover the next wave of cultural drivers. They will also create a cultural road map to encourage Americans to get behind the wheel and explore.
A new survey commissioned by Ford as part of ICON50 found that 42 perfect of Americans can't remember the last time they tried something new, suggesting they may have lost their sense of adventure. So what do I have on my mind for my next adventures? Driving to the woods of Long Island with friends for a spur-of-the-moment photo shoot. Pit-stops in Nashville to listen to my favorite band, and run around in cowboy boots during festival season. Coasting through Times Square to see the flashing lights, the moving pictures, our favorite movie stars. Hours on the highway just to get to the nearest In-n-Out burger. The opportunities and destinations are endless. Being on the road is one of the greatest things in my life. Being an LA native, I spent A LOT of my childhood in the car. Going places, seeing things. The anticipation and the excitement. But like my dad always said on our yearly family trips to Vegas: "The road is better than the inn." It's true. Cherish the journey.