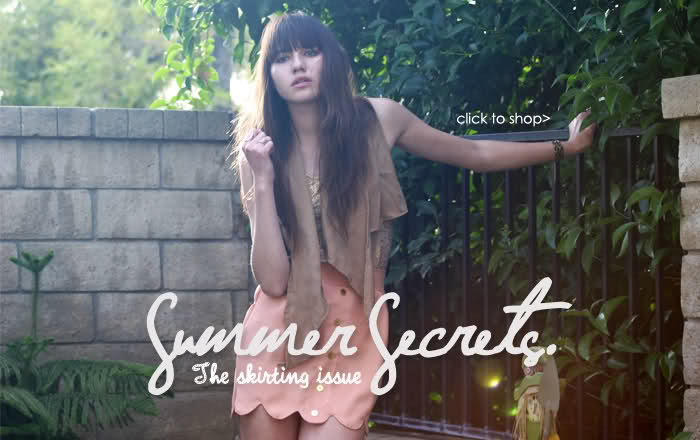 I'm on the homepage of StyleSofia! Weeeee! I'm wearing their Tulip Scallop Skirt, Camel Vest, and Champagne Tank. It has the whole Chloe color scheme that I love this time of year. I wore this skirt out yesterday and got some curious stares. I guess a lot of people are intrigued by skirts with scallops on them?! Eehh, my dad called me a pixie haha. Anyways, we had some really beautiful light this past week, perfect for snapping some photos for StyleSofia. I'm surprised at how soft the photos came out. Just the right feel for the clothes.
Looking back, I had a really nice week. I actually got to meet up with 1/2 of the designer team behind Stylestalker, Miss Rachel Zeilic. She randomly told me she'd be in LA for a few days. She is so sweet and so much fun. We had some great laughs! My sister and I drove her around the west side and stopped for In-n-Out burger and Diddy Reese. If you come to LA, you HAVE to have this combo lol. It's the best thing ever. Now I'm looking forward to work and shooting with one of my favorite clients, Joe's Jeans. I'll keep you posted!
But to continue on with my randomness today… have you seen this old Prada campaign video?
Apparently it's quite old, but I am still in love with this of Daria Werbowy for Prada. Watching her play different characters is so refreshing and new. She has the versatility to come across as different women, embodying different personalities. And I loved the dialogue so much… not to mention the movement in the beautiful frocks! Is there anything Daria can't do?!